Samsung Galaxy S6 vs Nexus 6, specs and more outlined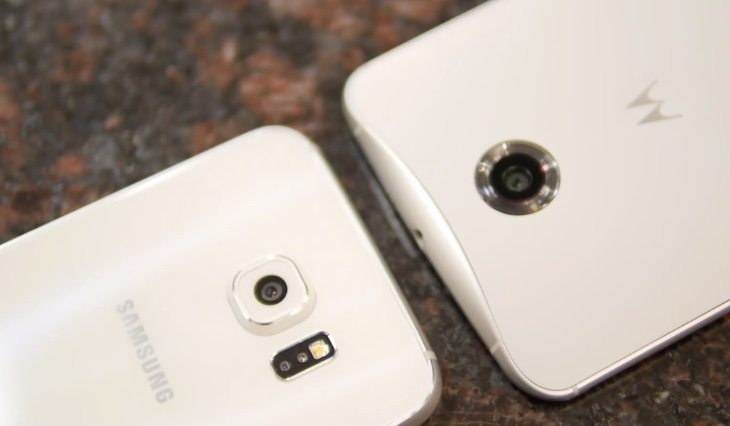 A new Nexus phone always makes plenty of waves when it arrives and the Google Nexus 6 made by Motorola was no exception when it released late last year. Many Android device enthusiasts are torn between the Nexus handsets and the flagship Samsung Galaxy S line, and the new Galaxy S6 has just released to a waiting public. With this in mind we're looking at the Samsung Galaxy S6 vs. Nexus 6 with specs and more outlined.
These are both top-flight phones with some admirable specs. Many Android fans enjoy Nexus devices because they offer a stock Android experience with speedy updates, although some were unsure about the massive display on the Nexus 6. On the other hand the Galaxy S6 has really stepped up to the plate with the premium quality and design of the new handset, although it no longer has a removable battery or microSD support as on previous versions. Let's run through the specs first.
Processors
The Galaxy S6 is powered by an Exynos 7420 octa-core processor (4 cores at 2.1GHz and 4 at 1.5GHz) and has Mali-T760MP8 graphics. The Nexus 6 has a 2.7GHz Snapdragon 805 quad-core processor and Adreno 420 GPU.
Display
Both have Quad HD resolution of 2560 x 1440. The Galaxy S6 has a 5.1-inch display resulting in 577 ppi while the Nexus 6 has a massive 5.96-inch display resulting in 493 ppi.
RAM and Storage
The S6 has 3GB of RAM and comes in storage options of 32, 64 and 128GB. The Nexus 6 also has 3GB of RAM and storage models of 32 or 64GB, also non-expandable.
Camera set-up
The Samsung phone has a 16-megapixel rear camera with autofocus, LED flash, optical image stabilization, and 2160p video capture, as well as a 5-megapixel front-facing snapper. On the other hand the Nexus phone has a 13-megapixel rear camera with autofocus, dual-LED flash, optical image stabilization, and 2160p video recording capability, with a 2-megapixel front-facing unit.
Battery
The S6 has a non-removable 2550 mAh battery while the Nexus 6 has a non-removable 3220 mAh battery.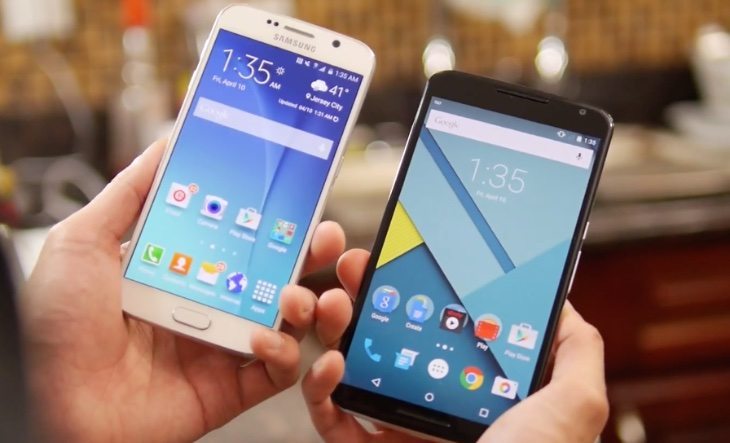 Connectivity
Both phones support 4G LTE, WiFi 802.11 a/b/g/n/ac, Bluetooth 4.1, GPS, and microUSB.
Operating System
The Galaxy S6 released on Android 5.0.2 Lollipop skinned with Samsung's TouchWiz UI. The Nexus 6 released on stock Android 5.0 Lollipop, now upgradable to Android 5.1.
Dimensions and Weight
The S6 measures 143.4mm x 70.5mm x 6.8mm and weighs 138g. The Nexus 6 measures 159.3mm x 83mm x 10.1mm and weighs in at a hefty 184g.
While this covers the key specs, buyers will also want to consider the many different features of both phones, designs and more, and for this we've embedded a YouTube video from Phone Arena below this post. These handsets have plenty to recommend them, and the 8-minute look at the two phones covers many aspects beginning with looking at the designs. This is useful as the difference in sizes is really shown here.
The comparison continues by discussing the displays, software experiences, performance, camera capabilities, call quality, and battery life, plus details of prices. It offers some useful insight into the two phones and may help you to decide which is the best option for you. Some of this is likely to depend on whether you prefer the larger display size of the Nexus 6 or the more compact and premium looking Galaxy S6.
When you've taken time to peruse the specs and view the comparison below we'd really like to hear from you. Do you sway more towards the Samsung Galaxy S6 or does the larger size of the Nexus 6 and stock Android experience win you over?