Galaxy S6 vs iPhone 6 GTA San Andreas gaming review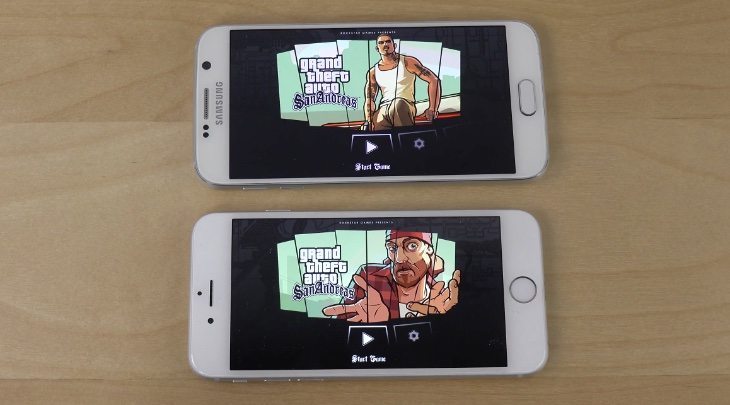 One aspect of deciding which new smartphone to buy can often be overlooked, but mobile gaming is important to many people choosing a new device. It's good to see how high-end flagships compare in this respect with popular games, and so today we're looking at the Samsung Galaxy S6 vs. iPhone 6 in GTA San Andreas gaming.
We'll briefly check out some of the key specs of each device first. The Galaxy S6 packs an Exynos 7420 octa-core processor (4 cores at 2.1GHz and 4 at 1.5GHz) with Mali-T760MP8 graphics. It has 3GB of RAM and a 5.1-inch display with Quad HD resolution of 2560 x 1440. Alternatively the iPhone 6 has a 1.4GHz Apple A8 dual-core processor with PowerVR GR6450 quad-core GPU, 1GB of RAM, and a 4.7-inch display with resolution of 1334 x 750.
Looking at the specs on paper it looks like the new Samsung flagship should give a superior gaming performance, but is that the case? We've embedded a video below this article that discusses and shows Grand Theft Auto: San Andreas on both devices to try to demonstrate which is better? It begins with the reviewer discussing graphics options (or not) for the devices and then proceeds by showing the game on both devices side-by-side.
When the game is started it's the iPhone 6 that is ready to go first but the Galaxy S6 isn't far behind. Some gameplay using the iPhone 6 is then shown, with commentary from the reviewer about the performance, noted to be very good. It's followed by some gameplay on the Galaxy S6, first on the default graphics setting and then cranked up. This leads to a "wow" from the reviewer although there are also some odd glitches observed.
When you've taken a look at the video it would be good to hear which device you think gives the best performance as far as gaming is concerned? Would you opt for the Samsung Galaxy S6 or the iPhone 6 in this respect? Drop your comments in the box below.
Source: YouTube