Elephone goes 2K for their upcoming flagships
Elephone has been ramping things up with their smartphone releases, and we've covered several solid handsets from the company this year including the P3000 with its 3GB of RAM. Well, it looks like they are pulling out all the stops for their next two smartphones simply known as Version A and Version B.
The new Elephone handsets may not have official names yet, but they will be powerful smartphones at the top of the food chain when they are released. One device is known as Version A, and it will come with a 5.5-inch panel sporting a resolution of 2,560 x 1,440. Beneath the glass is 4GB of RAM, 32GB of storage, and a battery that's listed as "more than" 3,800mAh. It will have 20.7MP rear sensor, 4G LTE, and is listed as coming with Android 5.0 Lollipop.
The second device, the Version B, is called a Dual-System device as it can run either Android 5.0 or Windows 10. We're unsure if that means it will "dual boot" into either OS, or you just get a choice on which OS you want to use. As for the specs, you're looking at an Intel-based quad-core chip instead of a Snapdragon, and the same innards found on Version A.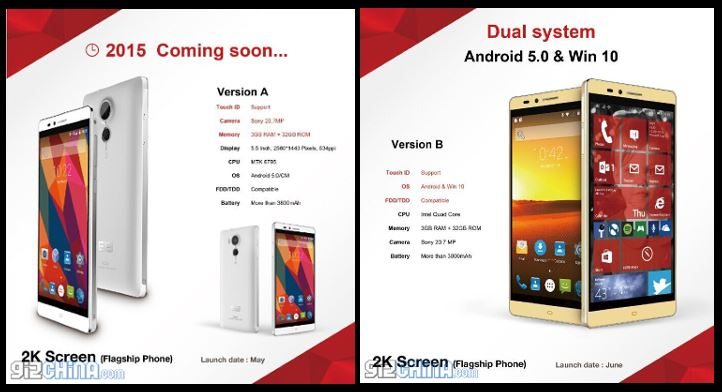 It remains to be seen what Elephone will call its new smartphones when they arrive or how much they will cost. We do have a rough release date though, as Version A is said to arrive in May with Version B coming the next month in June.
What do you think about Elephone's new smartphones?
via – GizChina