The Alcatel Pop Astro is gearing up for a T-Mobile launch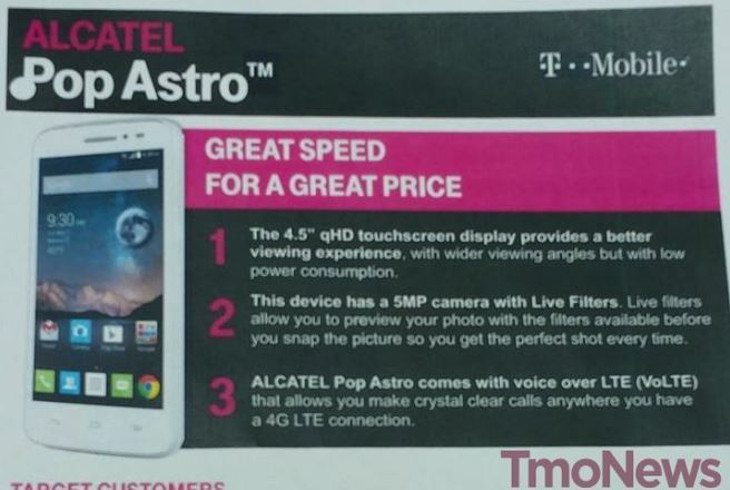 T-Mobile is one of the few U.S. carriers that have brought smartphones from smaller brands stateside. They got cozy with ZTE last year, and now it looks like they are getting ready to bring an Alcatel handset to the states with the Alcatel Pop Astro.
Smartphone manufacturers have trouble keeping things under wraps these days, and it's no different for carriers. It looks like someone from Magenta got a little trigger-happy with the Alcatel Pop Astro U.S. launch as it has just leaked through some marketing materials for the carrier.
The Alcatel Pop Astro will be a mid-range handset according to the leaked material, and it will sport a 4.5-inch qHD display. The chip is listed as a 1.2GHz quad-core processor, which is backed by 1GB of RAM and the usual 4GB of storage space. There's no mention of an SDcard slot, but hopefully it will have one otherwise, you are stuck with the cloud.
The rest of the Alcatel Pop Astro specs include a VGA selfie-snapper, 5MP rear camera, Wi-Fi, Bluetooth, and 4G LTE. The device will allow for Wi-Fi calling and you'll get VoLTE, otherwise known as voice over LTE, to boot. There's no mention of the battery capacity at this time, but the Pop Astro will run Android 4.4 straight out of the box.
Keep in mind, the marketing materials look official, but we have yet to hear anything from T-Mobile in regards to the Alcatel Pop Astro release. The Alcatel Pop Astro price is still up in the air as well, but you can expect the smartphone to be on the budget end of things and have a low unlocked price tag.
source: TmoNews