Samsung Nexus 5 for 2015 design, a good compromise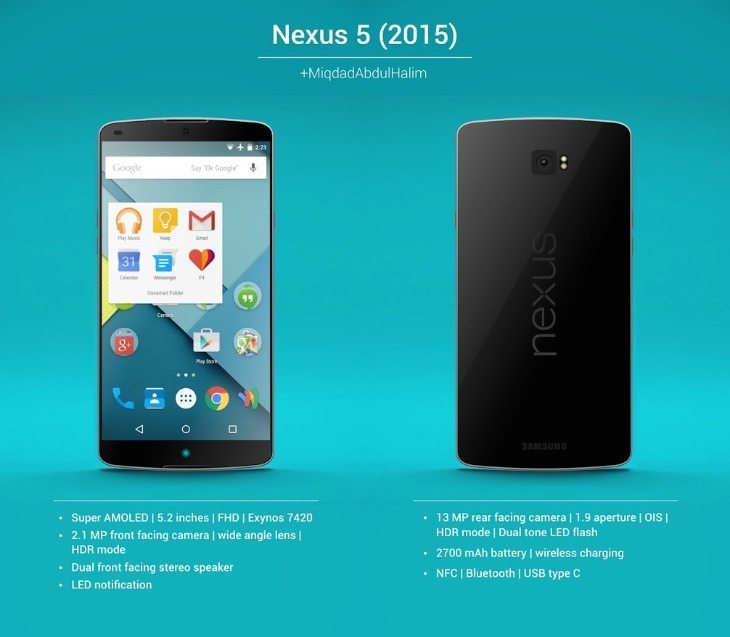 The LG-made Google Nexus 5 that released in late 2013 was an immense hit, and many people were eagerly anticipating the Nexus 6 for 2014. It's fair to say that the Motorola Nexus 6 hasn't been as big a hit as it could have been though, much of this due to the fact that it's so much larger with a 5.96-inch display and also notably more expensive. With this in mind we thought readers might be interested in this Samsung Nexus 5 for 2015 design that would be a good compromise between the two.
We think plenty of Android device enthusiasts would appreciate a version of the Nexus 5 that would release this year, although this one is sadly a concept idea. It teases us with the possibility of what could be though, and comes from designer Miqdad Abdul Halim. It might be refreshing to see another Samsung Nexus smartphone, and this one has the sort of solid look that we'd expect for a Nexus handset.
Fortunately we don't have to imagine what specs this Samsung Nexus 5 would have, as the designer also gives his ideas for these. The phone would have an Exynos 7420 processor, a 5.2-inch Super AMOLED display with 1920 x 1080 Full HD resolution, and 2700 mAh battery. Camera-wise you're looking at a 13-megapixel rear camera with f/1.9 aperture, HDR, dual tone flash, and optical image stabilization, and a 2.1-megapixel front-facing unit with wide-angle lens.
We can clearly see that this concept has a metal frame and there's a notification LED positioned beneath the display. The phone also features front-facing dual stereo speakers, NFC, Bluetooth, wireless charging, and USB Type C. It would of course be running Android M (Milkshake, Muffin, Maltesers, Marshmallow or whatever it is eventually dubbed).
Would you like to see a new Nexus for 2015 made by Samsung? If so, would you be happy for it to look something like this Samsung Nexus 5 vision or would you prefer it to be made by another manufacturer? Drop us your comments in the box below.
Source: Miqdad Abdul Halim (Google+)
Via: Concept Phones