iPhone 4S on iOS 8.4 beta 3 vs iOS 8.3 bootup testing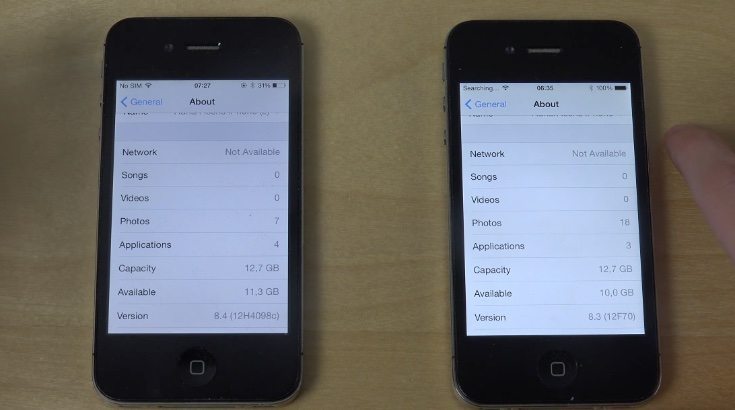 The current version of Apple's iOS to make it to a public release is iOS 8.3, however iOS 8.4 is already in beta. The third beta of iOS 8.4 was seeded to developers just a few days ago, and while we've already shown it running on an iPhone 6, it's also interesting to see it on an older device. Therefore today we're looking at the iPhone 4S on iOS 8.4 beta 3 vs. iOS 8.3 in bootup testing and more.
Recently we showed a video of the iPhone 6 on iOS 8.4 beta 3 vs. the Samsung Galaxy S6 on Android 5.0.2 Lollipop in the same type of testing, and now it's the turn of the older iPhone 4S. The third beta of iOS 8.4 includes further optimizations and bug fixes and has build number 12H4098c, and you can see it on the iPhone 4S when you view the YouTube video that we've embedded below this post.
The video shows two iPhone 4S units alongside each other, and shows the handset running the latest beta of iOS 8.4 on the left and the one running iOS 8.3 on the right. It begins with a basic bootup test, and this shows both devices being simultaneously powered up. It's a close-run thing here as to which is fastest and we'll let you find out when you watch the comparison. After this the reviewer shows some of the differences between the OS versions, such as the new look Music app on iOS 8.4 in beta.
Some of the other differences are also shown and the reviewer also loads a few apps such as the clock and camera for an idea of difference in speeds. The App Store is also loaded but strangely won't load for the handset running iOS 8.3. The reviewer says that he's had a lot of problems with WiFi on his iPhone 4S, something that some readers with this phone may also have noticed?
At the end of the video the reviewer notes that iOS 8.4 may be the last software version that the iPhone 4S receives, as it's unlikely to be updated to iOS 9, which is set to release later this year. When you've checked out the video below we'd welcome your comments.