Galaxy S6 vs S6 Edge, iPhone 6, 6 Plus Internet speed and bootup tests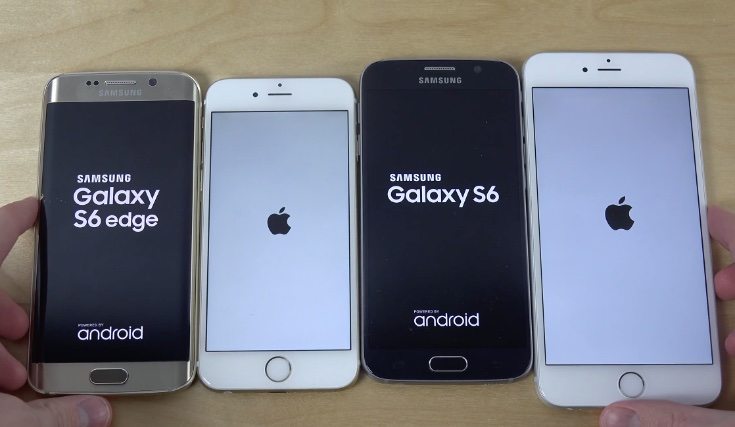 Every year there's a battle between the dominant Android flagship and the latest Apple iPhone and it can be interesting to see how particular aspects compare. Today we're showing the Samsung Galaxy S6 vs. S6 Edge, iPhone 6 and 6 Plus in Internet speed and bootup tests, and this reflects the sort of usage that affects smartphone owners in everyday use.
We've already written a ton of information on each of these devices including the usual specs comparisons, reviews and more. This time we've embedded two concise videos below this article that neatly show how these flagship devices fare against each other when solely concentrating on Internet speeds and which is quickest to boot up.
Before we get to the videos we'll refresh you on some key specs of each. The Samsung Galaxy S6 and Galaxy S6 Edge both have Exynos 7420 octa-core processors (with 4 cores at 2.1GHz and 4 at 1.5GHz), Mali-T760MP8 graphics, and 3GB of RAM. The iPhone 6 and iPhone 6 Plus both have 1.4GHz Apple A8 dual-core processors, PowerVR GX6450 quad-core graphics, and 1GB of RAM.
On paper it certainly looks as though the Samsung phones should have the advantage over the iPhones as far as speeds are concerned, so we were intrigued by what the results would be. In the first YouTube video below this article you can see WiFi Internet speed testing on all four of these smartphones. They are shown alongside each other and we are shown that they are all on the same WiFi connection.
The Ookla speedtest is then conducted on each phone one after another, and download and upload speeds are revealed. We're not going to give away the results as it could mar your enjoyment when you watch the video, but there's a clear winner. Next the same test is run again on a different server to see if there are any major differences in the result.
The second YouTube video below shows the Galaxy S6, S6 Edge, iPhone 6 and 6 Plus again, this time in a bootup test. The four phones are shown alongside each other once more, and then are simultaneously powered up to see what one is ready for action first. In this case two of the phones are winners, with the difference in speed imperceptible, but again we're not going to give the game away. It's worth noting that the Samsung Galaxy S6 and S6 Edge are both running Android 5.0.2 Lollipop. On the other hand the iPhone 6 is running a beta of iOS 8.4 while the iPhone 6 Plus is running iOS 8.3.
When you've checked out the videos below we'd be really interested to hear your views on this testing between the Galaxy S6, S6 Edge, iPhone 6, and iPhone 6 Plus. Were the results what you expected or not? Do let us know with your comments.
http:/https://www.youtube.com/watch?v=mQoJYxtVc5o