Nexus 6 Android 5.1.1 OTA update arrives for some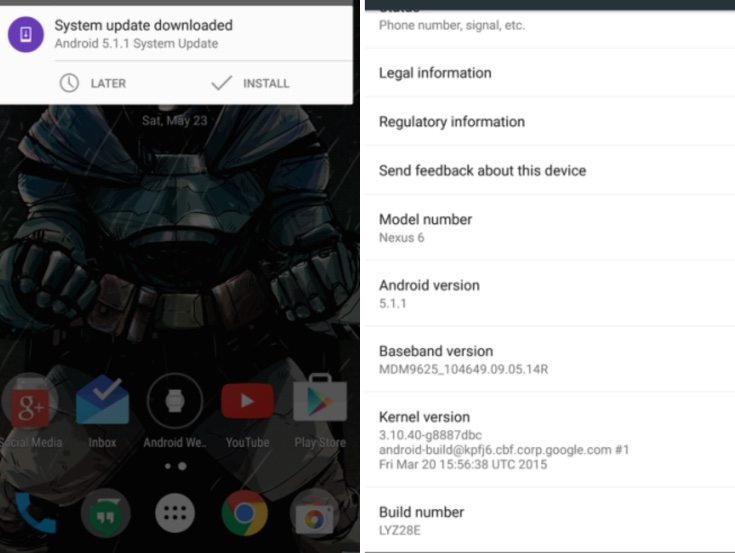 One of the benefits of owning a Google Nexus device is that they are first in line to receive new Android updates. There has been a bit of a puzzle though surrounding the Nexus 6, as although factory images for Android 5.1.1 have been made available for the Nexus 4 and Nexus 5, the update had failed to appear so far for the latest Nexus phone. Good news today then is that the Motorola Nexus 6 Android 5.1.1 OTA update is now arriving for some.
Owners of the Nexus 6 on T-Mobile will be pleased to hear that the US carrier has started rolling out an OTA update build on Android 5.1.1 Lollipop. You may be need to be a little patient as the update is likely to be pushed out in stages, so it may take a week or so to reach all units of the Nexus 6 on the carrier.
The upgrade to the operating system has build number LYZ28E and is around 125MB in size. T-Mobile has confirmed on Twitter that the update is now being seeded to the phone, saying that it has just approved this Nexus 6 update. As well as the benefits of Android 5.1.1, such as a device anti-theft feature, stability improvements and bug fixes, the update also brings WiFi calling software specific to T-Mobile.
The carrier has also posted information about the OTA update on its support page, with details of the software, requirements to update, and instructions on how to download and install it. Alternatively you can download and flash it manually from the OTA's direct URL. We anticipate that factory images for the Nexus 6 Android 5.1.1 update should also appear before too much longer.
It would be good to hear from users of the Nexus 6 on T-Mobile about this Android 5.1.1 update. Have you already received this latest upgrade, or are you eagerly waiting to install it? Drop us your comments in the box provided.
Via: Android Police