LG G Flex 2 Android 5.1.1 update starting to roll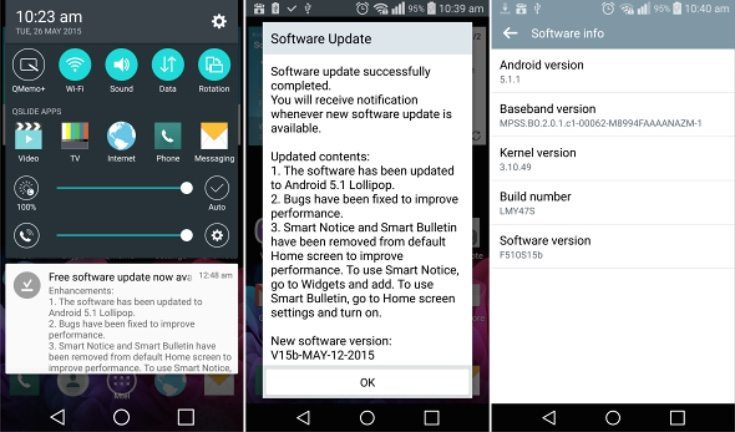 The LG G Flex 2 released earlier in the year and is now becoming one of the few devices to receive the latest Android Lollipop update. Android 5.1.1 has so far only reached a small number of devices, and now the LG G Flex 2 Android 5.1.1 update is starting to roll out, although it could take a bit longer to be available for the phone in all regions.
At the weekend we told how the Android 5.1.1 Lollipop OTA update was now arriving for the Motorola Nexus 6, and factory images were previously made available for the LG Nexus 4 and Nexus 5. The LG G Flex 2 released on Android 5.0.1 Lollipop and the Android 5.1.1 update for the device has now started to be pushed out for users of the phone with model number F510S in South Korea.
Although the build is dated May 12th, the update has only just begun arriving for the device in Korea, and the new firmware also brings bug fixes and performance optimizations. One performance boost in particular comes from the fact that the Smart Notice and Smart Bulletin features are now disabled by default. However, users of the LG G Flex 2 can enable these features again if they choose to do so.
The news that the update is now rolling out for South Korea is also promising for owners of the phone elsewhere. It's usually the case that once an Android update arrives for one market it pretty swiftly follows to the same device in other regions. Therefore if you have the LG G Flex 2 outside of Korea you can also expect to receive this update over the next few weeks.
It's always good to track the progress of Android updates so if you have the LG G Flex 2 we'd like to hear from you. When you receive Android 5.1.1 for your device perhaps you could let us know, and also tell us which region you are in?
Source: GSMArena