iPhone 6 vs LG G4 video capture shootout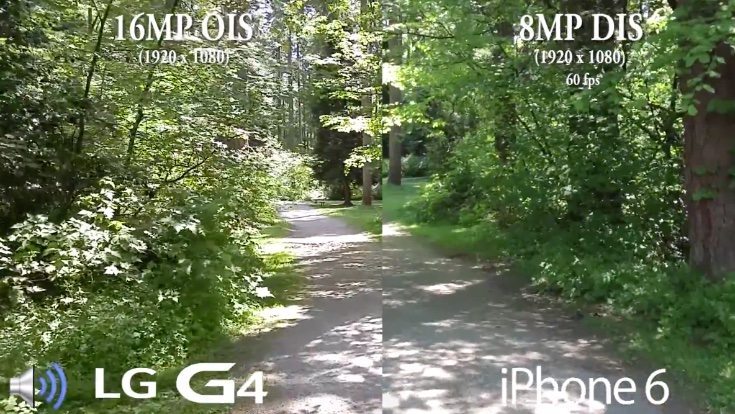 Cameras specs of the iPhone 6 on paper may not look as impressive as some high-end devices, for example the recently launched LG G4. However, specs listings aren't everything and we know that the iPhone 6 offers a very decent camera performance. It should be interesting then to compare the iPhone 6 vs. LG G4 in a video capture shootout for both the front and rear-facing cameras.
We've said before that it's not all about the megapixel count when it comes to smartphone cameras, as optimizations can make a lot of difference to results. However, for the record the iPhone 6 has an 8-megapixel rear camera with phase detection autofocus, dual-LED flash, and up to 1080p video capture, as well as a 1.2-megapixel front-facing camera with 720p video recording capability.
On the other side of the coin the newer LG G4 has some notable specs that include a 16-megapixel rear camera, with laser autofocus, LED flash, optical image stabilization, and 2160p video capture. It has an 8-megapixel front-facing snapper with 1080p video recording. It looks like this should be a no-contest, and you can find out in the two videos that we've positioned below this article that both come from L BS.
The first of these YouTube videos shows a video capture test of the iPhone 6 and LG G4 using the rear camera. It's in split screen format allowing for an easy comparison, and there's also an audio symbol that switches from one set of video footage to the other so that you can compare sound quality as well. There are clearly some differences between the two sets of footage, on aspects such as detail, color reproduction, stabilization, and audio.
The second YouTube video shows video capture taken with the front-facing units of both phones, again in split screen and alternating the audio. We have our own opinion on which camera does the best job with the front-facing camera and also the rear camera, but we're not going to say which device we think is best overall, as we don't want to influence your own decision. Readers may also be interested in a camera comparison of the LG G4 with the Samsung Galaxy S6.
When you've checked out both of the videos below we'd be interested to hear your judgements on this camera showdown between the iPhone 6 and the LG G4. Which one is your choice as the overall winner of the two? Do let us know by sending your comments in.
https://www.youtube.com/watch?v=b1pdDsHha1Y://
https://www.youtube.com/watch?v=MJciohcwe50://