Apple WWDC 2015 keynote live streaming will be available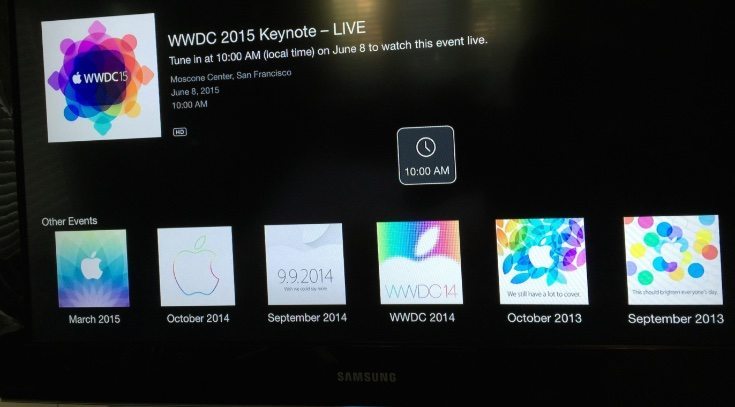 The Apple Worldwide Developers Conference takes place next week, and if you're wondering if the keynote will be streamed live then wonder no more! It's now confirmed that an Apple WWDC 2015 keynote live streaming will be available, so you'll be able to follow developments as they unfold.
The 2015 Apple WWDC keynote takes place on June 8 and kicks off at 10am PT /1pm ET. It has been spotted that the Apple Events app on Apple TV is already featuring details for the live keynote, as shown in the image below. Apple says to tune in on June 8 at 10am (local time) to watch the event live from the Moscone Center in San Francisco.
The company's website hasn't been updated just yet to show the upcoming keynote event will be live streamed, but going by future years it's likely that live streaming will also be available there for Macs or iOS devices running the Safari web browser. Just a few of the expectations from the event are the formal introduction of iOS 9.
The next major version of Apple's mobile operating system is set to include improvements and new features including transit, a new font, and iPad split-screen multitasking, as well as the usual stability and performance optimizations. We also recently reported on rumors about a Home app for iOS 9. Other prospects for Apple WWDC include OS X 10.11 and new Apple TV hardware.
As well as these there's anticipation that the new Apple Music service based off Beats will also be launched during WWDC, and you can read more about that here. This is always an exciting time of year in the mobile world so do check back with us from time to time as we'll be bringing news before and after the event.
What are you most hoping to hear about from this year's Apple WWDC? Will you be tuning in to live streaming of the keynote address?
Source: 9to5Mac