iPhone 6 vs Plus, 5S, 5C, 5, 4S Internet, bootup speeds on iOS 9 beta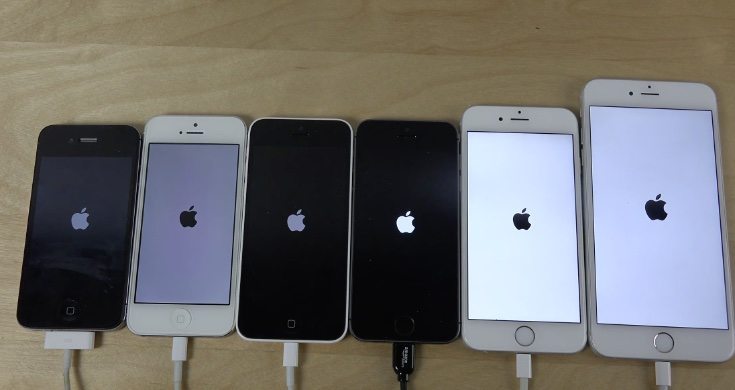 Today we're showing some tests involving Internet and bootup speeds for the iPhone 6 vs Plus, 5S, 5C, 5 and 4S running the iOS 9 beta. Apple's iOS 9 beta 1 was seeded to developers last week, and although the public release won't arrive until fall it's always interesting to see some first looks. This is especially the case when tests are run on different iPhones all running the same version.
The iPhone 6 and iPhone 6 Plus are shown up against the iPhone 5S, 5, 5 and 4S in a couple of videos that we're sharing today. The iPhone 4S is the oldest iPhone that will be compatible to receive the upgrade to iOS 9, and if you want to know more about what iOS 9 will offer you might like to check out a previous look at iOS 9 features.
The two videos that we've embedded beneath this article come from Adrianisen and show how the above phones compare in two different aspects when all running iOS 9 beta 1. The first YouTube look shows a bootup speed test with all of the devices lined up alongside each other, from the iPhone 4S on the left right through to the iPhone 6 Plus on the right. The phones are simultaneously powered up to see which is ready for action first.
As you might expect it's the newer devices that are ready for action first. We won't say the exact order here though, as you'll see when you watch the test for yourself. After the bootup the reviewer shows that all of the handsets are running the first beta of iOS 9, and then gives a brief look at some of the changes that this version of iOS brings.
The second YouTube video below shows the same handsets in an Internet speed test. Again they are all running iOS 9 and you'll see an Ookla Speedtest taking place on each of the iPhones. When you view the test you can see the download and upload speed results for each device, and one of the most notable points is the very big difference in speed between the iPhone 4S and iPhone 5.
Readers may also be interested in a bootup test of an iPhone 6 on iOS 9 vs iPhone 6 on iOS 8.4 betas, as well as a benchmark test of the same. Drop us any comments you have on this latest testing with iOS 9 beta 1 on the iPhone 6, Plus, 5S, 5C, 5 and 4S in the box below.
https://www.youtube.com/watch?v=bAI_ylgUfTA://
https://www.youtube.com/watch?v=crIwW4u1DN4://