Samsung Galaxy Note 5 concept adopts dual camera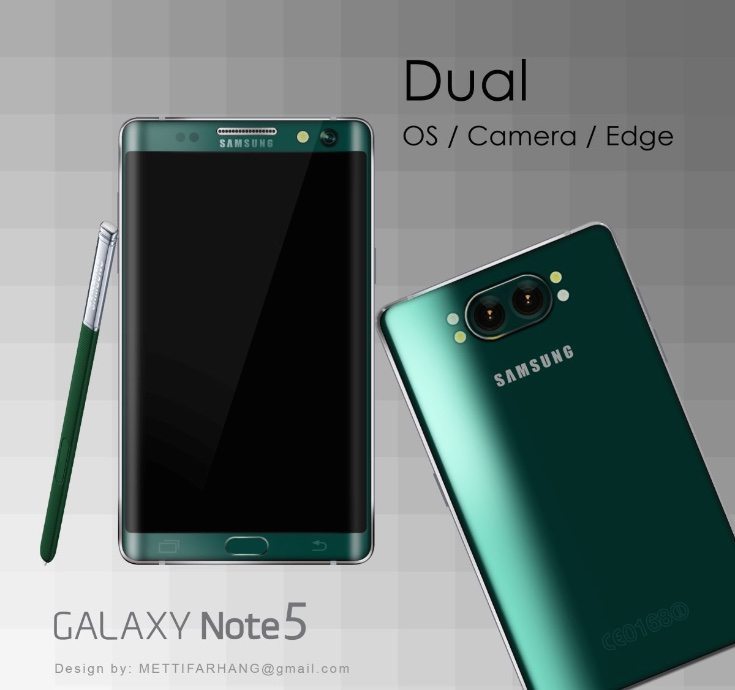 The Samsung Galaxy Note 5 is widely expected to be officially unveiled in September, and we are likely to see a growing amount of leaks and rumors over the coming weeks and months. While we're waiting we've already seen plenty of Galaxy Note 5 ideas to tantalize us. Today we have a new Samsung Galaxy Note 5 concept that adopts a dual camera system.
Just some of the latest speculation about the Galaxy Note 5 includes the possibility of a Type-C port and also an auto-eject stylus. As far as models are concerned, it looks as though there could be a standard Samsung Galaxy Note 5 as well as a Galaxy Note 5 Edge or Galaxy Note Edge 2 with curved edge or edges.
The latest Samsung Galaxy Note 5 concept we're looking at comes from designer Metti Farhang who imagines just the one version but with dual curved edges. It appears to be quite wide and on the front we can see an oval-shaped physical Home button, which is likely to include a fingerprint scanner. On either side of this there are capacitive buttons for Back and Recents.
Possibly the main point of interest is on the rear of the handset, which features a dual camera, with no less than four flashes. This camera could perhaps have 3D capabilities although the designer hasn't given specs to go with this render. We rather like this green color with matching green aspect on the stylus and wonder what readers think of this new Galaxy Note 5 design idea.
You might like to compare it with a couple of other recent Note 5 visions that we've shown, here and here, and let us know which you think is best. Does this latest Samsung Galaxy Note 5 concept design have any appeal for you? Do let us know by sending us your comments.
Source: Concept Phones