Archos 50 Helium Plus, 55 Helium Plus budget prices for UK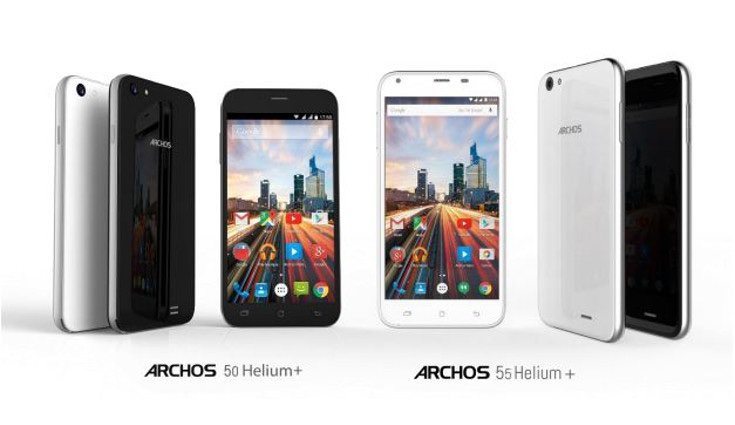 Last week we brought readers news of two newly announced Archos smartphones, the Archos 50 Helium Plus and 55 Helium Plus. These are both extremely affordable handsets that have the benefit of 4G LTE connectivity as well as running Android Lollipop. They are heading for a July release and now we have details of their budget prices for the UK.
Specs of these two devices may not be too exciting, but they offer real value for money. The Archos 50 Helium Plus price for the UK is £119 while the larger 55 Helium Plus is priced at £139. We'll give you specs of the cheaper version and then the differences on offer if you buy the superior handset.
The Archos 50 Helium Plus is powered by a 1GHz MediaTek MT6735P quad-core processor, with Mali-T720 graphics, and a 5-inch display with HD resolution of 1280 x 720. It has 1GB of RAM, 8GB of internal storage that's expandable via microSD, a 2000 mAh battery, and runs the Android 5.1 Lolllipop operating system.
Camera capabilities consist of a 13-megapixel rear camera and a 5-megapixel front-facing snapper. Connectivity is catered for with 4G LTE, WiFi 802.11 b/g/n, Bluetooth 4.0, and it supports dual SIM. If you plump for the Archos 55 Helium Plus instead, it has a bigger 5.5-inch display with the same resolution, as well as a larger 2400 mAh battery capacity.
Both handsets come in black or white colour options. At these prices you can't really argue, and although Archos isn't as well know as some other manufacturers these could be fairly successful. Are you intending to buy either the Archos 50 Helium Plus or 55 Helium Plus? Let us have your comments.
Source: Android Central