Microsoft Lumia 940 and 940 XL seemingly confirmed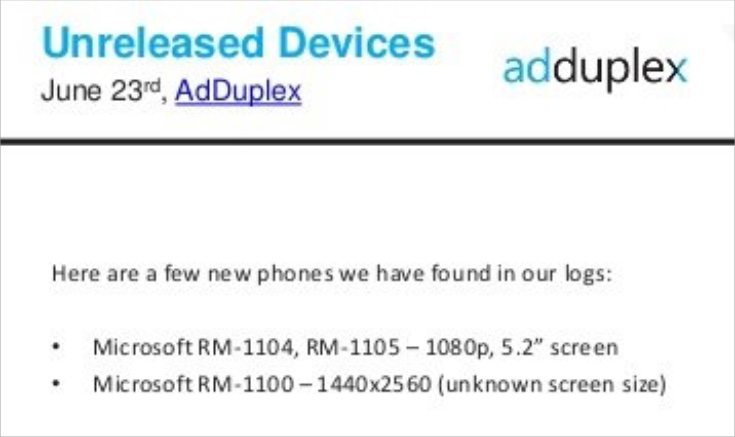 There's a huge amount of anticipation for upcoming high-end Microsoft Lumia smartphones. The Microsoft Lumia 940 and Lumia 940 XL are hotly awaited and look as though they will fit the bill of high-end Lumia's based on rumors and leaks so far. Now the Microsoft Lumia 940 and 940 XL evidence has grown, as they have seemingly been confirmed on an ad network listing.
Unofficial specs that we've heard of so far for the Microsoft Lumia 940 XL include a Snapdragon octa-core processor, a 5.7-inch display with Quad HD resolution of 2560x 1440, 3GB of RAM, and 32GB of internal memory (expandable). Further tipped specs are a 20-megapixel PureView rear camera 5-megapixel front-facing snapper, and 3300 mAh battery.
For the Microsoft Lumia 940 many of the leaked specs are the same as for the larger version, except that it's thought to have a 5.2-inch display size, a smaller 3000 mAh battery, and may have a hexa-core CPU rather than octa-core. As well as this it's thought that the new Microsoft Lumia 940 and 940 XL will be the first Lumia's to release running the upcoming Windows 10 for Mobile OS, and an iris scanner has also featured in rumors for the 940 XL.
As much as we enjoy hearing unofficial news about specs and features, we always have to remember that nothing has been officially confirmed yet. That's why it's good to see the first firm signs of upcoming devices. Two upcoming Microsoft Windows 10 smartphones have recently turned up on the AdDuplex ad network as devices being tested. The first has model number RM-1100 and although this isn't named as the Lumia 940 XL it does match up. The device in question has been confirmed as having a display with Quad HD resolution but the listing doesn't give the measurements of the device.
Another appearance on AdDuplex is for the Microsoft RM-1104/RM-1105 (single SIM and dual SIM?), and this one has a 5.2-inch display. This ties in as the Microsoft Lumia 940, but instead of Quad HD resolution this one has Full HD resolution of 1920 x 1080. If all of the above is accurate it certainly looks as though it will be the larger Microsoft Lumia 940 XL that will have the upper hand specs-wise, but at this stage it's still a case of wait and see.
Are you eagerly waiting for the Microsoft Lumia 940 and Lumia 940 XL to be made official? Maybe you're a little disappointed that it looks as though only that larger phablet version will have the superior specs? Drop us your comments in the box below.
Source: AdDuplex
Via: WMPowerUser