New ZTE Boost Max+ launches for US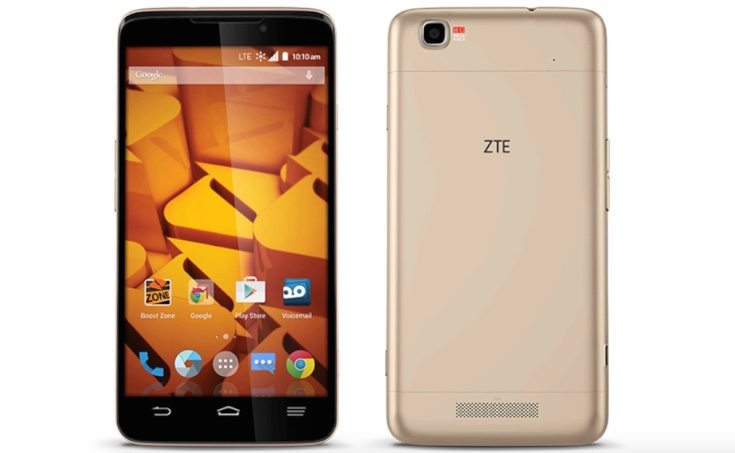 Early last year Boost Mobile launched its version of the ZTE Iconic and dubbed it the Boost Max. The phablet provided decent specs for very competitive pricing and now a successor has arrived. The new ZTE Boost Max+ has launched for the US and again it has a low price for what it offers.
Boost Mobile now has the Boost Max+ on sale at an off-contract price of just $199.99 with free shipping. For the money you'll get a smartphone with a 1.2GHz quad-core processor, a 5.7-inch IPS display with HD resolution of 1280 x 720, 2GB of RAM, and 16GB of internal storage. It has an 8-megapixel rear camera with 1080p video capture, and a 1-megapixel front-facing snapper.
The Boost Max Plus is juiced by a sizeable non-removable 3400 mAh battery, has 4G LTE connectivity and runs the Android 5.1 Lollipop operating system. If you enjoy watching videos and movies on your mobile you'll be pleased to hear that it has Dolby Digital Plus virtual surround sound. The handset measures 6.5 x 3.25 x 0.4-inches and weighs 6.87 oz.
Many of the specs are similar to the original Boost Max although the new ZTE Boost Max+ steps up from a dual-core processor, 3200 mAh battery, and just 1GB of RAM. That first handset launched at $299.99 so the Boost Max+ is likely to find some buyers. You can head to the source link below to see more about the phone or to place an order with Boost Mobile.
What are your initial impressions of the ZTE Boost Max+? Do you think it has plenty to offer for its price? Let us know by sending in your comments.
Source: Boost Mobile
Via: Android Central