Oppo R5s promo price for US sans LTE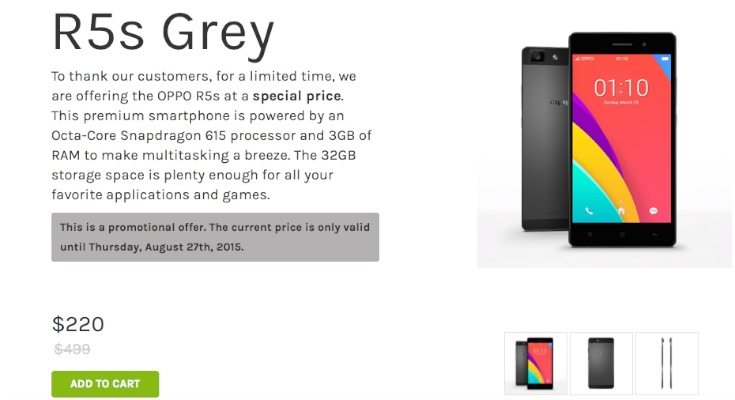 Just a few days ago the Oppo R5s became listed for Europe although it hadn't been officially announced. It's an upgraded version of the Oppo R5 that released in December last year as it has more RAM and internal storage. Now we have details of an Oppo R5s promo price for the US, though we'll point out that it lacks support for US 4G LTE bands.
The Oppo R5s is an extremely sleek-looking smartphone as it's just 4.9mm thick/thin. It has a lot to offer for a competitive price, and for the US launch of the phone Oppo has given it a limited-time special price of just $220 as a thank you to its customers. That only applies until August 27 (tomorrow) though, so if you want to take advantage of this low price you'll want to be quick to place your order.
Oppo has crossed out a $499 price tag but it's not clear whether this is the price that will apply after the limited-time promotional period. Either way at $220 with free shipping the Oppo R5s is an attractive proposition. The phone can be ordered directly from Oppo's online store and comes in a gray color.
It's powered by a Snapdragon 615 octa-core processor, with a 5.2-inch Full HD AMOLED display, 3GB of RAM, and 32GB of internal storage (non-expandable). Further specs include a 13-megapixel rear camera with autofocus, LED flash, and 1080p video capture, a 5-megapixel front-facing snapper, and a non-removable 2000 mAh battery featuring fast charging. The Oppo R5s runs the Android 4.4.4 KitKat-based Color OS 2.0.
Remember you'll need to be quick to get the phone at this lower price, and also that it does not support US 4G LTE bands. Will you snap up the Oppo R5s at this special promotional price? Do let us know by sending your comments.
Via: GSMArena