Samsung Galaxy Tab S2 review for 9.7-inch model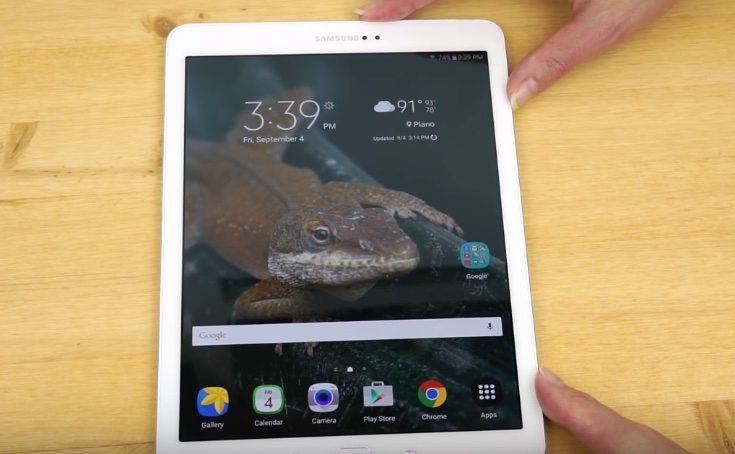 If you're about to purchase a new high-end tablet you might be considering the Samsung Galaxy Tab S2. It was announced in late July and comes in two models the 8.0 and Galaxy Tab S2 9.7. Today we're showing a Samsung Galaxy Tab S2 review of the 9.7-inch version.
We'll run through some of the key specs of the device before we get to the review so that you have an idea from the start of what it has to offer. The Galaxy Tab S2 9.7 packs an Exynos 5433 octa-core processor (4 cores at 1.9GHz and 4 at 1.3GHz), and has a 9.7-inch Super AMOLED display with 2048 x 1536 resolution resulting in 264 ppi. It has 3GB of RAM, internal storage options of 32 or 64GB (expandable to 128GB with microSD), and a 5870 Ah battery.
The Samsung Galaxy Tab S2 9.7 has an 8-megapixel rear camera, 2.1-megapixel front-facing camera, and runs the Android Lollipop OS with Samsung's TouchWiz. It's an extremely slim tablet (competing with the iPad Air) and measures 237.3mm x 169mm x 5.6mm, weighing in at 389g for the WiFi-only model or 392g for the LTE model. The tablet also features a fingerprint scanner.
So that you can see much more about it we've embedded a YouTube video below of a 9.7-inch Samsung Galaxy Tab S2 review from MobileTechReview. It offers a 17-minute look at the device with some useful insight and opinion, and begins with detailing the price and discussing the design and build. You'll see all around the slate and then the review covers many different aspects.
These include the display, software experience, performance, connectivity, camera capabilities, battery life and more. The overall verdict is positive with the design and performance both earning praise. However, the reviewer does say that it doesn't bring anything particularly new to the table. Some of the best aspects of the tablet are neatly summed up, although battery life isn't one of them.
If you watch the Samsung Galaxy Tab S2 review below we'd appreciate receiving your comments afterwards. Did the review help you to make up your mind about purchasing this tablet? Is it a yes or a no and for what reasons?
https://www.youtube.com/watch?v=Ax9o7nWVBJk://