HTC One A9 price indicator is surprisingly high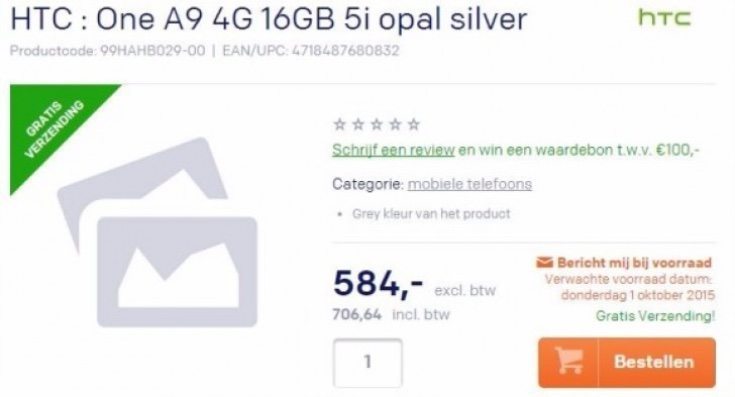 For virtually as long as we can remember we've been following developments of a smartphone originally dubbed the HTC Hima Aero and then simply the Aero. More recently this has become known as the HTC One A9 and it looks to be heading for a big reveal at an event on September 29. Now we have news of an HTC One A9 price indicator, and if accurate this shows it will have surprisingly high pricing.
Since the first rumors of the One A9 we've heard mixed news on specs. It was leaked as a mid-range device and then further leaks implied it would be a top-of-the range smartphone, for example this benchmark appearance. However, just a few days ago an often-reliable tipster gave us a new specs leak that showed it to be more of a mid-sector device after all, although we should remember that nothing has been made official yet.
Now a price leak has arrived courtesy of a Dutch retailer, and although the HTC One A9 is now thought to be a mid-range smartphone it has rather more expensive pricing than we would have anticipated. The retailer in question already has pre-orders open for the HTC One A9 and its price including taxes is €706.64. That's equivalent to around $800, £515, or Rs. 52,550.
The Dutch listing for the HTC One A9 price also shows the device to have 4G connectivity and 16GB of internal storage, which ties in with the latest specs leak. Another snippet of interest from the retailer spot is that the HTC One A9 is up for grabs in four different color choices, Deep Garnet, Topaz Gold, Carbon Grey, and Opal Silver. As we recently reported, it's rumored that the One A9 could be running Android 6.0 Marshmallow out of the box.
We'll point out that for now the HTC One A9 price is unofficial and so should treat this leaked price with a large shake of the proverbial salt pot. Nevertheless, if accurate, there will be plenty of people who think this pricing is extortionate given the latest rumored specs for the device. These include a 5-inch display with Full HD resolution, 13-megapixel rear camera, and 2150 mAh battery.
For now it's a case of wait and see but the end of the month will soon roll around and hopefully we will then have confirmed specs and more for the new HTC phone. Do you think the above pricing is extreme for a mid-sector HTC One A9? Alternatively, maybe you think this HTC One A9 price indicator implies the phone is not a mid-range handset after all?
Source: centralpoint.nl
Via: GSMArena