FIFA 16 Ultimate Team review of gameplay on the Galaxy S6 Edge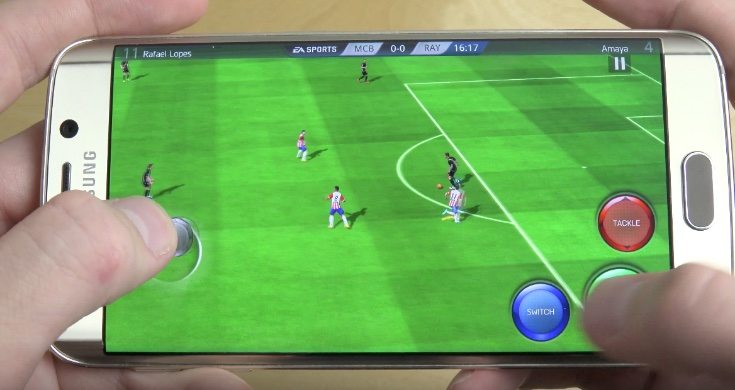 Football gaming enthusiasts across the world have been eagerly waiting for the release of FIFA 16. The Ultimate Team app arrived first on the App Store for iOS devices and this was followed by the release of the Android app on Google Play. So that you can take a look at what it has to offer we're sharing an FIFA 16 Ultimate Team review of gameplay on the Samsung Galaxy S6 Edge.
A multitude of fans are already getting to grips with FIFA 16. However, before we get to the FIFA 16 Ultimate Team review it's worth mentioning our previous article where we discussed compatibility issues with the Android version of the app. Our readers have been commenting and also emailing us, and the list of devices not compatible with FIFA 16 UT is growing all the time. It's certainly compatible with the Galaxy S6 Edge though, as shown on the gameplay review that we've embedded beneath this article for your viewing pleasure.
The Samsung Galaxy S6 Edge is one of the most dominant high-end Android handsets on the market. It packs an Exynos 7420 octa-core processor, has Mali-T760MP8 graphics, and 3GB of RAM. Add to that a 5.1-inch Super AMOLED display with Quad HD resolution of 2560 x 1440, and this is one device that should certainly be cope with the demands of FIFA 16 Ultimate Team.
The concise video review below comes from Adrianisen and gives a nice first taster of what you can expect from the app. As well as some gameplay it will show you some of the changes, such as the controls of the new version of the game, customization options, or how to switch to a controller. The performance certainly looks smooth on the Galaxy S6 Edge and the reviewer notes that FIFA 16 Ultimate Team offers "a more enjoyable experience."
When you've checked out this FIFA 16 Ultimate Team review of gameplay on the S6 Edge we'd like to hear your first thoughts on the new version of the game. If you have already downloaded the app, are you pleased with the performance of it on your own device? Why not drop us your comments in the box.
Source: YouTube
https://www.youtube.com/watch?v=HK-iwGkmLw8://