iOS 9.0.1 changelog shows issues fixes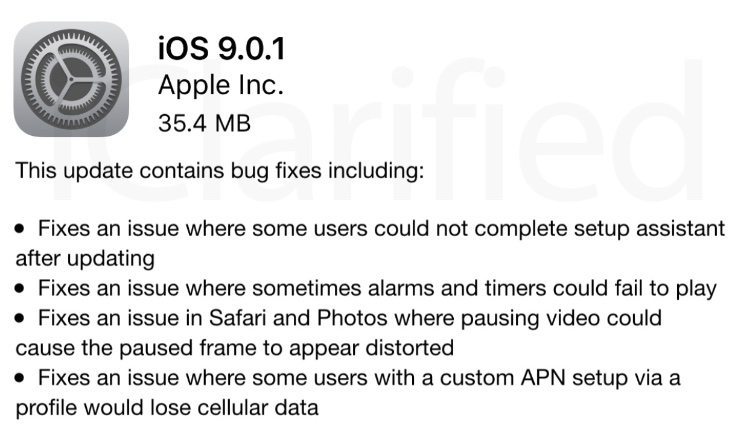 Apple released iOS 9 just over a week ago for iPhone, iPod touch, and iPad, and just as many are just getting to grips with it the first update has already arrived. The iOS 9.0.1 changelog shows issues fixes, and the fact that this update has been pushed out so quickly appears to back up device user reports about various problems.
Apple has already said that the iOS 9 release has broken records for early adoption numbers, but although it offers plenty of improvements it has also brought some glitches along for the ride. Of the iOS devices in our office we have particularly noticed problems for some of the older devices including the iPad mini and iPhone 5.
The good news is that Apple is addressing at least some of these issues with the iOS 9.0.1 update that is around 35MB in size depending on device. If you already updated to iOS 9 and have noticed some difficulties, it's likely to be worth upgrading to iOS 9.0.1 as soon as possible. You should be receiving notification of the update to your device any time now if you haven't already. Alternatively you can check for it manually by heading to Settings followed by General followed by Software Update.
As you can see from the changelog image below, the update includes fixes for various issues involving setup assistant, alarms and timers, pausing video in Safari and Photos, and loss of cellular data connectivity for those with a custom APN setup via a profile. As well as yesterday's release of iOS 9.0.1, it's worth saying that Apple also released iOS 9.1 beta 2 to developers, following on from the first beta.
While it's good to know that the iOS 9.0.1 release will fix some issues, we wonder about other problems that we've noted ourselves and heard about from our readers. These include battery drain, slow performance, and random crashes. We'd like to hear your views on the arrival of iOS 9.0.1. Has this update fixed any issues you were facing with your iPhone or iPad since you upgraded to iOS 9?