Galaxy Tab E Nook announced for Barnes & Noble at $249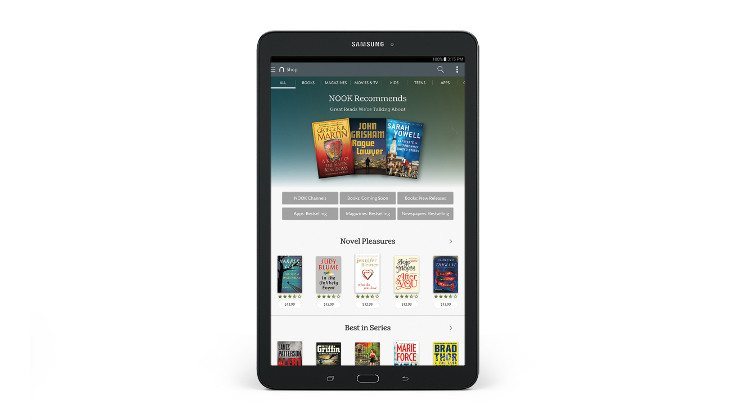 Samsung has cranked out several slates in partnership with Barnes & Noble, and you can now add one more to the list. The Galaxy Tab E Nook has been announced as a new 9.6-inch tablet for B&N enthusiasts, and it's set to roll out starting today.
It was around this time last year when the Samsung Galaxy Tab 4 Nook 10.1 was announced, and the Galaxy Tab E Nook has arrived a bit early to take its place. It's a bit smaller than last year's model, but still has the same resolution of 1,280 x 800. We couldn't find any information on the chipset or RAM unfortunately, but there's 16GB of internal storage to work with that can be expanded up to 128GB.
The Galaxy Tab E Nook may be built for reading, but it still lets you snap photos with a 5MP rear camera and 2MP front-facing sensor. The slate comes with the Multi Windows feature along with a full suite of Microsoft Office apps and Barnes & Noble's custom UI. There's been no mention of the battery life, but the juice box is said to provide up to 12 hours of video.
The Galaxy Tab E Nook is the company's middle-range Nook tab as you've got the Samsung Galaxy Tab S2 NOOK on the high-end and the Galaxy Tab 4 Nook 7.0 on the budget side of things. The Galaxy Tab E Nook is priced at $249.99 and there's a trade-in promo that shaves $50 off the price if you're looking to upgrade from a previous version of the Nook.