Samsung Galaxy S6 vs Sony Xperia Z5 camera performance compared
The Samsung Galaxy S6 and Sony Xperia Z5 are two of the top Android devices of the moment and both have some excellent photography capabilities. If you're a keen user of your smartphone camera you might want to consider how they stand up against each other in this respect. We're looking at Samsung Galaxy S6 vs Sony Xperia Z5 camera performance compared so that you can see the results of testing.
The Sony Xperia Z5 is a recent arrival whereas the Samsung Galaxy S6 hit the shelves earlier in the year. They have top specs and are both devices that will be upgraded to Android 6.0 Marshmallow at some point. We'll recap the key camera specifications of each before we get to the comparison.
The Samsung Galaxy S6 has a 16-megapixel rear camera with autofocus, LED flash, optical image stabilization, and 4K video capture. It also has a 5-megapixel front-facing shooter. On the other side of the coin the Xperia Z5 has a 23-megapixel rear camera with phase detection autofocus, LED flash, and 4K video recording capability, as well as a 5.1-megapixel front-facing snapper.
If you scroll down the page you'll come to a video comparison of Samsung Galaxy S6 vs Sony Xperia Z5 camera testing that will give you a clearer idea of which is the best performer. It involves both front and rear-facing cameras with video footage displayed as well as images including close-ups. The testing also shows results from various conditions, indoors, outdoors, and in low-light.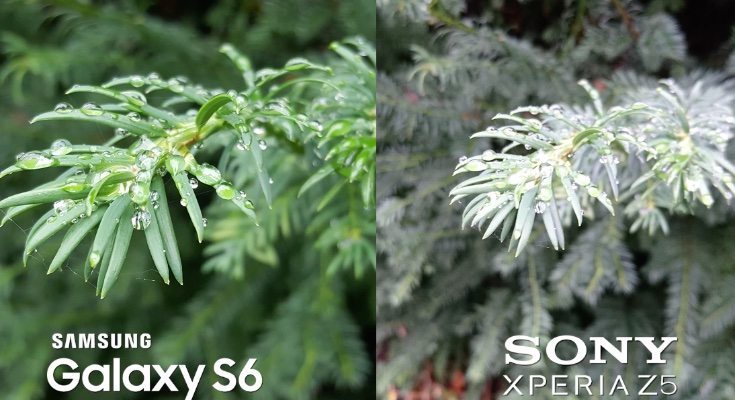 The video introduction is shown with footage from the front-facing cameras of both phones shown side-by-side. You'll see an audio symbol at the top that switches alternately between the phones so that you can also compare audio quality. The comparison then moves on to outdoor footage with the rear cameras, also shown in split screen so that you can compare the results easily. The video testing also shows indoor footage.
After this the video covers images, first with the front-facing cameras and then the rear cameras. Sometimes when we see these types of camera comparisons the differences in the results is marginal, but in this testing the results are notably different. Both perform well and individual opinions on camera performance is subjective, but at the end the reviewer sums up which he thinks was better for the various different aspects.
We'd like to know if you agree with his verdict on the camera capabilities of the Samsung Galaxy S6 vs Sony Xperia Z5? Which of these smartphones do you think offers the best overall camera results?
Source: SuperSaf TV (YouTube)
https://www.youtube.com/watch?v=3-Yxha0-I10://