Samsung Galaxy View WiFi now on sale in US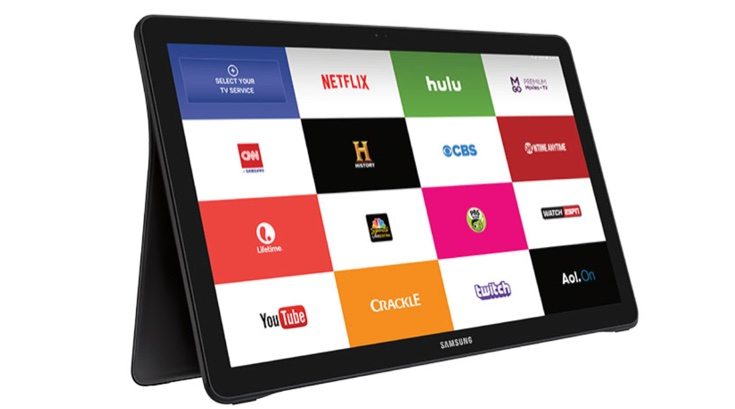 At the end of October Samsung finally made its much-hyped Galaxy View tablet official. This tablet may not have the most top-flight specs, but what it does have is a massive 18.4-inch display and that's its major point of interest. The Samsung Galaxy View WiFi model has now arrived for sale in the US, with the price matching earlier leaked pricing.
When the Samsung Galaxy View was officially announced there was no pricing given. However, we had already reported on a leaked retailer listing showing a price of $599. That has turned out to be accurate as the Samsung Galaxy View WiFi 32GB model is now on sale in the US at $599. A model with cellular connectivity is also on the way, and as you would expect that one will have a higher price tag. There's no news yet on when the Galaxy View cellular version will be up for grabs.
Those who want the Samsung Galaxy View WiFi-only are in luck though, as the mammoth tablet dubbed as a 'moveable display' is now on sale at a variety of retailers. Heading to the Samsung US online store shows us that you can purchase directly through Samsung or that the Samsung Galaxy View is in stock right now from Amazon and Best Buy. Alternatively it can be pre-ordered from Adorama, B&H, and BrandsMart. The device is also available from some brick and mortar Best Buy stores.
The Galaxy View measures 17.79″ x 10.86″ x 0.47″ and weighs in at a hefty 5.84lb. Therefore we'll remind you that the size of this tablet doesn't make it a very portable device, although it does have a useful carry handle for the odd occasion when you might want to lug it about. It's really aimed more at those who want a large display for entertainment and productivity purposes.
Specs include Full HD resolution of 1920 x 1080 for the 18.4-inch display, a 2.1-megapixel front-facing camera (no rear camera), and 2GB of RAM. It runs Android 5.1 Lollipop and is powered by a 1.6GHz Exynos 7580 octa-core processor. The 32GB of internal storage is expandable to 128GB via microSD, and the Samsung Galaxy View has a 5700 mAh battery.
Are you pleased to hear that the Samsung Galaxy View is now up for grabs just in time for the holiday season? Maybe you've already added it to your gift wish list? Drop us your comments in the box below.
Source: Samsung US
Via: PhoneDog