Lumia 950 and 950 XL cheaper UK prices on Amazon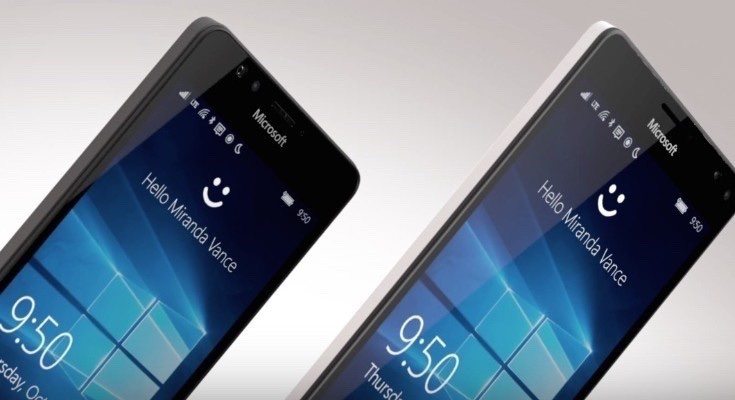 There's a huge amount of expectancy for the Microsoft Lumia 950 and Lumia 950 XL and we've been trying to keep readers informed about release and price news. The Lumia 950 and 950 XL version are available to pre-order from Amazon, and both have cheaper UK prices than directly from Microsoft. However, the date for availability is a little longer.
From the amount of interest in these new Lumia Windows 10 Mobile high-end smartphones, they look likely to sell in big numbers. Originally Microsoft announced an official price for the Lumia 950 as £499.99 while the larger Lumia 950 XL was to be priced at £549.99. However, in late October Microsoft then cut the prices before release with the Lumia 950 now at £449.99 and the Lumia 950 XL at £529.99.
We've just checked those Lumia 950 and 950 XL prices at the official Microsoft online store and they remain the same at the time of writing. Both are listed with a shipping date of December 3rd and are available to pre-order. Now the phones are also listed on Amazon to pre-order at reduced prices. The giant online retailer currently has the Lumia 950 up for grabs at £429.99 while the Lumia 950 XL has a price of £479.99.
Both of those prices are less than the respective prices from Microsoft, but it's worth noting that the Amazon release date for both handsets is December 12th. Therefore you can save money by waiting a bit, although another thing to point out is that these release dates could change. Of course other retailers will also be offering the Lumia 950 and 950 XL so it's worth shopping around to compare other prices too.
If you're looking for a new smartphone, have you already decided it's going to be the Microsoft Lumia 950 or 950 XL? Are you prepared to wait longer to get one at a cheaper price from Amazon, or not? Do let us know your thoughts on this.
Source: Amazon UK (Lumia 950) (Lumia 950 XL)