Samsung Galaxy A9 release closer with Bluetooth spot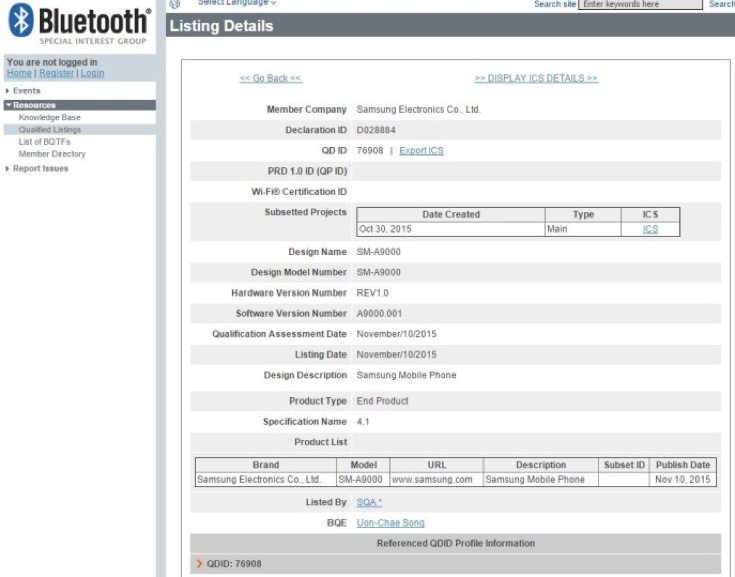 There have already been several signs of the Samsung Galaxy A9, and these include specs leaks and components being listed. Various certification appearances are usually a sure sign that device launches are closing in, and now the Samsung Galaxy A9 release is closer following a Bluetooth spot.
There's a fair amount of interest in the Samsung Galaxy A9 following the releases so far of the Galaxy A3, A5, A7, and A8. Early last month some components for the Galaxy A9 with model number SM-A9000 showed up in an import/export listing, so this confirmed it was in development. Then the phone was spotted in a benchmark listing giving us an idea of specifications.
Further to this there was another specs leak last week. Although the specs tied up with the earlier leak in most respects, the display sizes were different so that is still in question. Now Samsung model number SM-A9000 has received certification at the Bluetooth SIG, with the process completed on November 10th.
While this doesn't give us a concrete timeframe for the Galaxy A9 release, this is usually one of the final stages we hear of before an official announcement of a device. The Galaxy A8 only released in August so at first we though the launch of the A9 would not be for some time. Nevertheless the signs are now indicating a Samsung Galaxy A9 release much sooner than we anticipated.
Unconfirmed specs of the device that have leaked so far include a Snapdragon 620 processor, Adreno 510 graphics, 3GB of RAM, and 32GB of internal storage. However, the benchmark spot revealed a screen size of 5.5-inches with Full HD resolution while the later specs leak gave a 6-inch display size. The phone is running the Android 5.1.1 Lollipop operating system, although that could change by the time it hits the shelves.
The Galaxy A9 is shaping up to be an upper mid-range smartphone, and of course we'll keep you informed with further news as it comes to us. Is the A9 a device that you would consider purchasing? Are you waiting keenly for the Samsung Galaxy A9 release? Do send in your comments to let us know.
Source: SamMobile