Vivo X6 Plus news and Vivo X6 launch date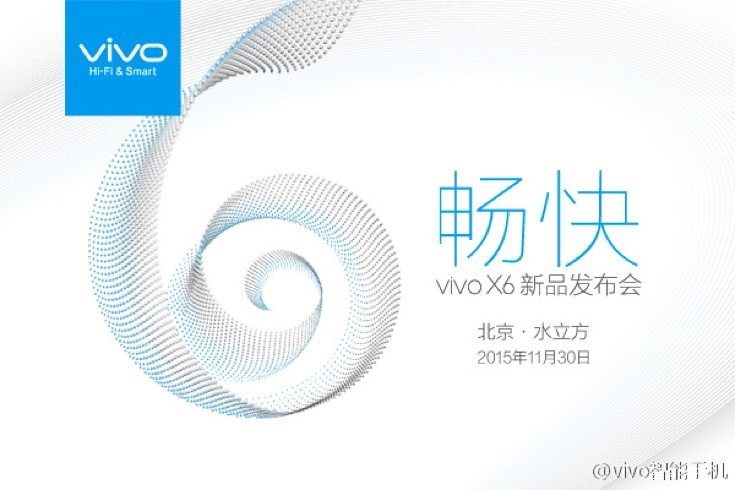 There have been plenty of leaks about the Vivo X6 and recent signs indicated it was getting very close to a launch. It now appears that another handset is also on the way dubbed the Vivo X6 Plus. We have Vivo X6 Plus news that has come to light just as the Vivo X6 launch date has been confirmed.
In recent weeks we've reported on a specs leak for the Vivo X6, as well as some images of the device as it showed up for certification. That was a sure sign that the smartphone was very close to being made official, and indeed it will launch before the end of this month. Vivo has posted an official teaser on Twitter about an event date of November 30th where the wraps will be taken off the Vivo X6.
There are thought to be two variants of the Vivo X6, the X6L and X6D, with the latter version for China Unicom. So what about the Vivo X6 Plus? This phone has now shown up in 3C certification in and so there's a chance it could also launch alongside the Vivo X6. The 3C (China Compulsory Certification) filing shows two variants of the X6 Plus, the Vivo X6 Plus A and Vivo X6 Plus L.

Unfortunately the documentation doesn't give any specs of the device, but we're likely to hear more on that when it goes through the TENAA certification process. From its title we might expect the Vivo X6 Plus to be a larger version of the Vivo X6. However, the Vivo X6 is already set to have a large 6-inch display with Quad HD resolution, and the Vivo X6 Plus is rumored to have a 5.7-inch screen. That doesn't make a lot of sense to us, so we're interested to find out more.
Apart from that, the X6 Plus is tipped to have the same specs as the X6. They are a MediaTek Helio X20 deca-core processor, 4GB of RAM, and 32GB of internal storage. It's set to have a 21-megapixel rear camera, 12-megapixel front-facing shooter, and 4000 mAh battery. A fingerprint sensor is also tipped.
Along with the launch of the Vivo X6 on November 30 (and possibly the Vivo X6 Plus) there's a possibility that two other recently leaked Vivo smartphones could be made official. They are the Vivo Y37A and Vivo Y51A, which also recently turned up for certification.
Have you been waiting for a launch date for the Vivo X6? Maybe you're interested to find out more about the Vivo X6 Plus?
Source: Weibo
Via: Times News (1) (2)