Gionee Marathon M5 Plus to launch on December 21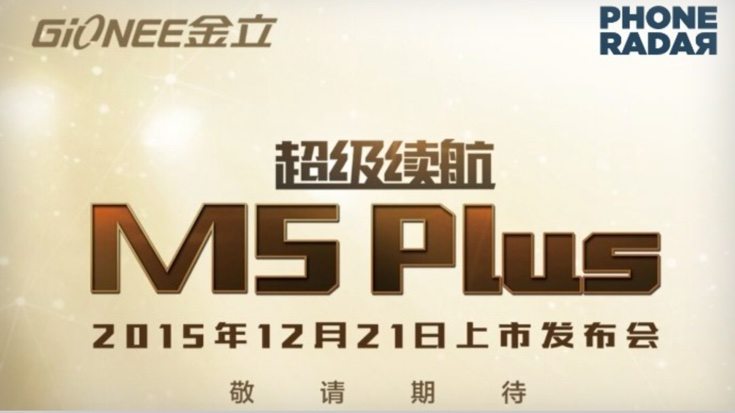 The Gionee Marathon M5 was officially unveiled in June and released in China shortly afterwards. However, in other regions such as India it has only just launched. Nevertheless we're already hearing about a Gionee Marathon M5 Plus, and it's set to be made official next month.
Gionee has just issued a teaser for a device that will be unveiled on December 21 in China. The image actually names it as the M5 Plus, so there's no confusion that this is for another smartphone altogether, despite the fact that the Marathon M5 has only just arrived for sale for some buyers. In India for example, the Marathon M5 only went on sale last week, so early buyers may now be concerned about whether they should have waited for the Gionee Marathon M5 Plus.
Alas, at the moment we don't know anything else about the Plus version of the phone, so we can't tell you the differences between the two. One of the highlights of the regular Marathon M5 is that it packs massive juicing power, with two batteries that combine to offer a total capacity of 6020 mAh. Therefore it seems unlikely that the M5 Plus would need to step up further in battery size.
The currently available Marathon M5 has a 1.5GHz MediaTek quad-core processor, and a 5.5-inch AMOLED display with HD resolution. Therefore we could speculate that the Gionee Marathon M5 Plus might have a more powerful processor, or a larger display. Interestingly the M5 that was first introduced for China had 2GB of RAM and 16GB of internal storage, and then a variant with 3GB of RAM and 32GB also became available. The latter model is the one that recently went on sale in India.
However much we speculate, at this stage it's really anyone's guess as to what the differences will be when we are introduced to the M5 Plus. One thing we do know is that we only have to wait until December 21 to find out, and you can be sure we'll bring more information as we hear it. What elements of the M5 would you like to see improved with the Gionee Marathon M5 Plus?
Via: Phone Radar