Smartisan T2 specs revealed in benchmarking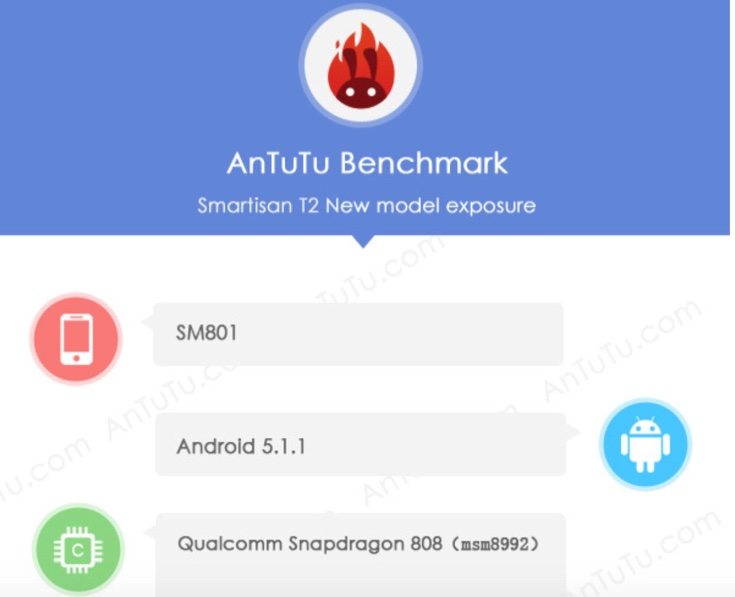 If you've been waiting for news on the successor to the Smartisan T1 smartphone, we have some further details today. Earlier this month we showed some leaked purported images and rumored specs of the Smartisan T2. Now further Smartisan T2 specs have been revealed in benchmarking.
Smartisan is a relatively new Chinese privately-owned device maker based in Beijing, and the Smartisan T2 looks likely to be the company's third smartphone release. The phone has just made an appearance in an AnTuTu benchmark. The leak gives us a clearer idea of specifications, and the first thing to say is that the Smartisan T2 (model SM801) managed a score of 65,000. That's a pretty decent result so it should be able to compete against some of the other high-end competition out there.
The benchmark filing shows Smartisan T2 specs that include a Snapdragon 808 hexa-core processor, Adreno 418 graphics, and a 5-inch display with Full HD resolution of 1920 x 1080. It's shown as having 3GB of RAM and 32GB of internal storage, while camera capabilities consist of a 13-megapixel rear camera, and 5-megapixel front-facing shooter. Those specs tally with earlier rumored details, although does fill things out a little.
For the benchmark test the Smartisan T2 was running the Android 5.1.1 Lollipop operating system skinned with the Smartisan V2.0 UI that was introduced with the Smartisan U1 phone. However, it's possible that a newer version of the UI (V2.0+) will be included by the time the phone releases. Once we see sightings of phones in benchmarking we usually see further leaks follow before too much longer, so we'll be keeping an eye open for more.
Unfortunately there are no details on the Smartisan T2 release or pricing just yet, but we imagine a launch won't be too far away. Given these Smartisan T2 specs, might it be a phone that you would be interested in? Let us know by sending your comments to us.
Source: Weibo
Via: G for Games