InFocus M640 gets benchmarked with an E-ink rear display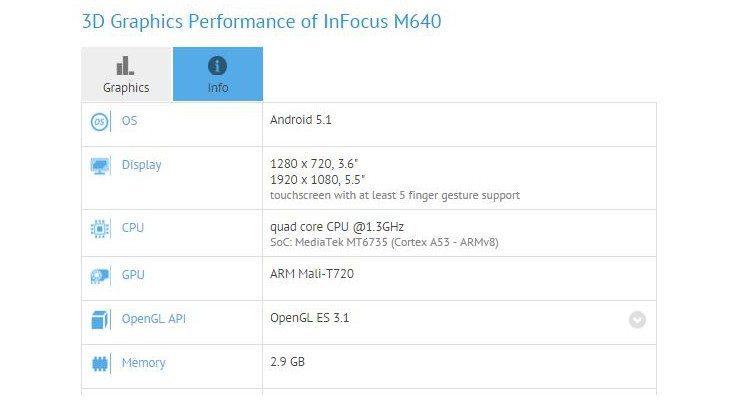 We've yet to see a major manufacturer take an E-ink approach with their smartphones, but the tech is starting to show up in some unexpected places. The InFocus M640 looks to be the latest smartphone to launch with dual displays, and it's just shown up on a popular benchmarking site.
While we've seen a few smartphones pop up with E-ink displays since the Yodaphone first arrived. The InFocus M640 is going to join the pack soon as it has just rolled through GFXBench with some interesting specs. First and foremost are the displays, and unless there's a pretty large error, the M640 is going to have two of them. The front-facing panel puts it in the phablet class at 5.5-inches while the resolution is listed at 1,920 x 1,080. On the backside, you'll find a smaller 3.6-inch 720p display which we assume is of the E-ink variety.
Above the second display on the InFocus M640, you'll find a respectable 13MP sensor. The front-facing camera is better than expected as well at 8MP. Other features to note include 3GB of RAM, 16GB of internal storage, and a quad-core MediaTek MT6735. The usual array of sensors are present, but there is no NFC and it's listed as only having a single SIM card slot.
Benchmark listings can be off on occasion, but it wouldn't surprise us to see InFocus and others get in on the E-ink action soon. We have no idea when the InFocus M640 release date will arrive or how much it will cost, but we will keep you in the loop as we learn more.
via- Phoneradar      source: GFXbench