Lumia 850 leaks intensify, color options shown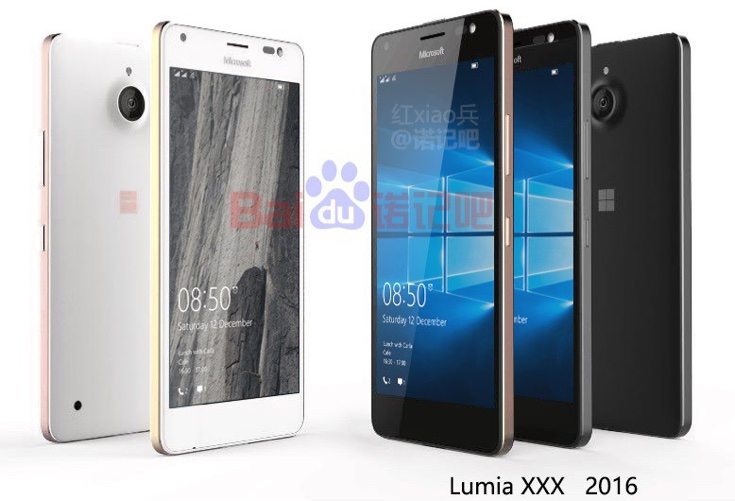 There's just no stopping it. After everything went quiet for some time on the rumored Microsoft Lumia 850, all of a sudden leaks are coming in thick and fast. Now Lumia 850 leaks are intensifying and the color options have been shown. Does that mean the smartphone is finally heading to a release? We still don't know but it's looking increasingly likely.
Anyone who has been following the saga of the Lumia 850 (codenamed Honjo) will know that it was first rumored an age ago. After a nice build up on the rumor mill it then looked like it had been cancelled, but in recent weeks we've suddenly started seeing fresh leaks. First leaked renders showing the back of the device turned up, and this was swiftly followed by supposed live images of the device.
Only yesterday we reported on the latest leak, a clearer image showing both the back and front of the Lumia 850. Now another leaked image has surfaced, this time showing the handsets back and front again, and also showing the various color choices. Yesterday's picture showed the Lumia 850 in white with gold colored trim for the frame, buttons, and Microsoft logo.
Now the handset is shown again in a new leak from China of official looking renders. Once again we can see the same white handset with gold accents and there's also an option in white with rose gold accents. Two black handsets are also shown, one with copper contrast and the other with plainer gray accents.
Another addition with this latest image is that the display is on and shows a time of 8:50 indicating that this is indeed the Lumia 850 as expected. We've seen this kind of teaser before with upcoming Lumia smartphone leaks so it's another thing to think about. Like the Lumia 950 and 950 XL we might also see a Lumia 850 XL to go with the 850.
With a steady stream of leaks now coming in, we're inclined to think there's no smoke without fire and that the Microsoft Lumia 850 may be officially launched before too much longer. Of course it's still possible that these new leaks are all red herrings but for now we'll keep our fingers crossed.
Are you hoping to see a release for the Microsoft Lumia 850 and a possible Lumia 850 XL version? Do you think the amount of leaks suggest that we'll see it made official soon? Let us know with your comments.
Source: tieba.baidu.com
Via: NPU