Alcatel Fierce XL Windows release nears following certification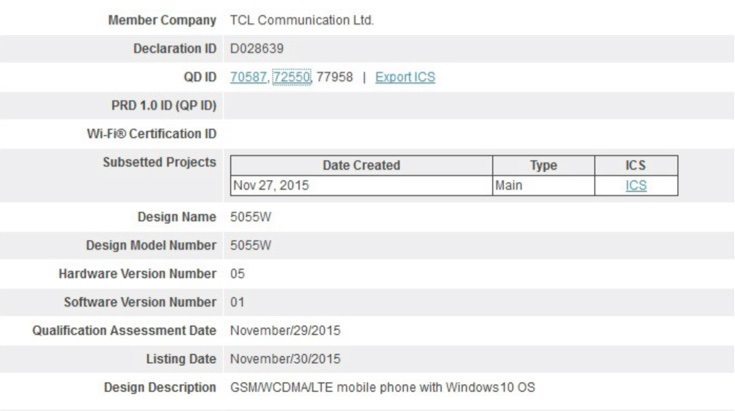 The Alcatel Fierce XL released in November as an Android smartphone, but way back in October we had indication that there would also be a Windows 10 Mobile edition. Now the Alcatel Fierce XL Windows release is nearer following certification. It's a low to-mid-range phone and we have further details ahead.
A while ago Alcatel stated that its first Windows 10 Mobile phone would arrive before the end of the year, and rumors suggested it would hit the shelves in December. If you're waiting for the Alcatel Fierce XL Windows edition it will be reassuring that things appear to be bang on track, as the phone has now passed through the Bluetooth certification process.
Very often this is one of the last times we see a device leak before it officially launches, and that's also likely to be the case this time around. It's expected that T-Mobile will be offering the Alcatel Fierce XL but remember that the phone has still not been made official by Alcatel so nothing is confirmed yet.
Specs of the Alcatel Fierce XL Windows 10 Mobile handset are expected to be the same as for the Android version of the phone. It's powered by a 1.1GHz Snapdragon 210 quad-core processor, has a 5.5-inch HD display (1280 x 720), 2GB of RAM, and 16GB of internal storage (expandable with microSD). There's a 2500 mAh battery, an 8-megapixel rear camera, 2-megapixel front-facing snapper, and 4G LTE connectivity.
We'll be following developments and anticipate an official launch soon. Have you been hoping to get your hands on the Alcatel Fierce XL Windows smartphone? Let us know with your comments.
Via: NPU