Samsung Galaxy S6 Mini gets listed ahead of official announcement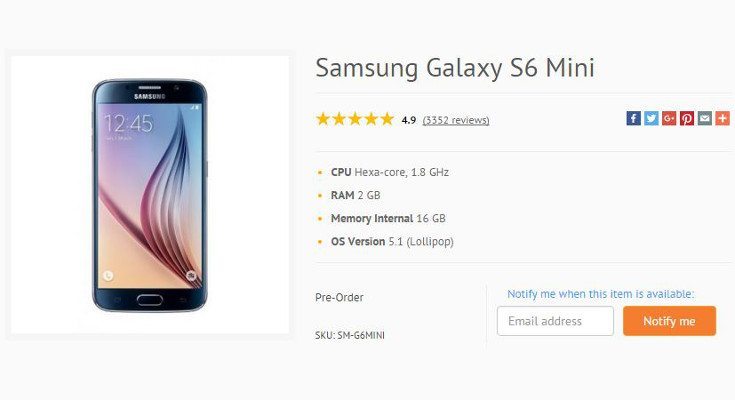 We're not sure if Sammy is king of the variant hill anymore, but they appear to have one more left in their arsenal for their latest flagship. The Samsung Galaxy S6 Mini has been spotted at an online retailer, which may have finally revealed the Samsung Galaxy S6 Mini specs.
In a few months we'll be getting our first official glimpse of the Samsung Galaxy S7, but Samsung will probably crank out a half-dozen new handsets before then. The Samsung Galaxy S6 Mini could be one of them as the smartphone has been rumored to arrive since the original dropped earlier this year. Well, the device has shown up from an unlikely source, and if their listing is true, we should see the smartphone on the streets shortly.
LetsTango has listed a device dubbed the Samsung Galaxy S6 Mini on their website along with a smattering of specs. As you might suspect, this Mini is smaller than the original thanks to a 4.6-inch Super AMOLED display. Unfortunately, most everything else has been shrunken down as well which means you're looking at a 2GB of RAM, a 1.8GHz Hexa-core processor and 16GB of storage. The camera combo is listed at 15MP/5MP, but everything else is a mystery aside from a fingerprint scanner and 4G LTE.
The Samsung Galaxy S6 Mini listing doesn't reveal a release date for the unannounced smartphone, but you can sign up to be notified when the device becomes available if the listing pans out. The Samsung Galaxy S6 Mini price and overall availability is up in the air as well, but we'll keep you in the loop as we learn more.
via – Mobipicker      source: Letstango