LG SmartThinQ Hub set to debut at CES 2016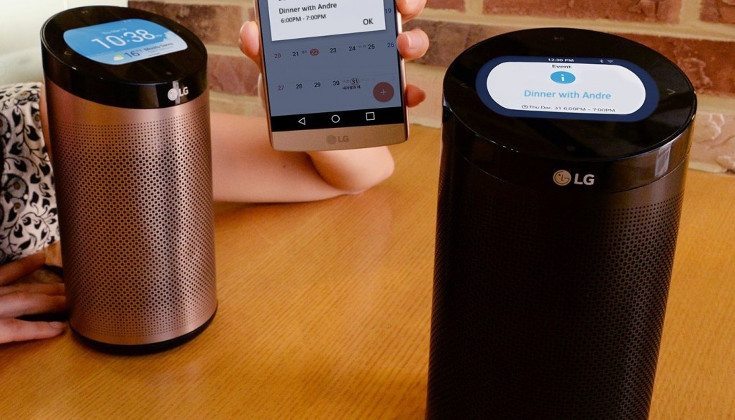 Amazon's Echo has turned out to be one of the bigger hits of the year when it comes to gadgetry, and it was only a matter of time before we saw something similar. The LG SmartThinQ Hub does borrow a few pages from the Echo's playbook, but not in the way you would expect.
CES 2016 is creeping closer by the day, and some manufacturers have decided to leak a few of their gadgets ahead of the big show. LG has joined the club with the LG SmartThinQ Hub, and as you can see from the photo, it looks a bit like the Amazon Echo. It also functions in a similar fashion, but can do plenty of things that the Echo cannot.
LG appears to be focusing on the connected home with the LG SmartThinQ Hub. The high-tech hub will serve as a monitoring station for connected devices in your home, and let you check things out through a small 3.5-inch display on top of the device. From there, you can get reminders and other information, but if you prefer, it can read things aloud. As it has a speaker, music will also come into play but that's about all we know for now as far as the functionality is concerned.
In addition to the features we've listed, the LG SmartThinQ Hub is built to work with the Iris Home System from Lowe's and you can bet the farm more functions are on the way. The gadget uses the open-source goodness of Alljoyn, which means more developers should hop on once things are official. Needless to say, if you have a connected home it's something to look into as it works with smart and dumb appliances as long as you have the proper connection.
As our wireless tech gets better, we will start to see more home-based solutions like the LG SmartThinQ Hub in the years ahead. The Amazon Echo may have been the tip of the iceberg, and while we have a long way to go towards full home automation, gadgets like the Echo and the SmartThinQ are a step in the right direction.
via – Engadget