Philips Xenium S616 reaches certification to reveal specs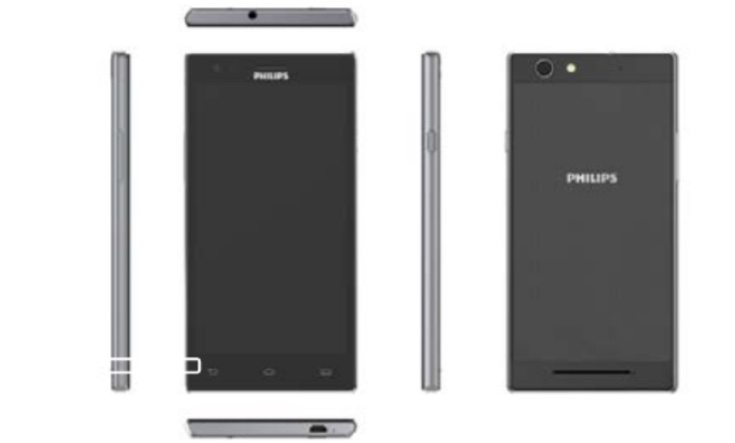 From time to time we cover Philips smartphones and it looks as though a new one is not far away from a release. The Philips Xenium S616 has reached the certification stage, and the FCC filing gives details of some very nice specs and also shows images. Once we see a device reach the FCC an official launch usually follows soon afterwards.
Last month we reported on the Philips Xenium V377 with its highlight being a 5000 mAh battery. While the Philips Xenium S616 doesn't have such a high battery capacity, other specifications are definitely a step up. The images included in the documentation reveal a decent looking handset, and the filing shows it in a black color.
Philips Xenium S616 specs are disclosed as a MediaTek MT6753 64-bit processor, while the screen is a 5.5-inch IPS variety with Full HD display resolution of 1920 x 1080. You'll find 2GB of RAM and 16GB of internal storage, which will be expandable using a microSD card. The phone has a 13-megapixel rear camera with CMOS sensor, and at the front there's a 5-megapixel unit.
The Philips Xenium S616 runs the Android 5.1.1 Lollipop operating system, and has a 3000 mAh battery. Connectivity is covered with WiFi, 4G LTE, 3G, Bluetooth, and FM Radio. Although the FCC documentation doesn't give any clues about a release date or pricing, it does indicate that we're likely to hear something official about this handset very soon.
Of course we'll have our noses to the ground to sniff out further information and when we hear more we'll let you know. Are you a fan of Philips smartphones? What sort of price would you put on the Philips Xenium S616 given the above specs? We always enjoy hearing from readers so why not drop us a line using the box provided below.
Source: FCC
Via: Times News