HTC One A9 review on gaming performance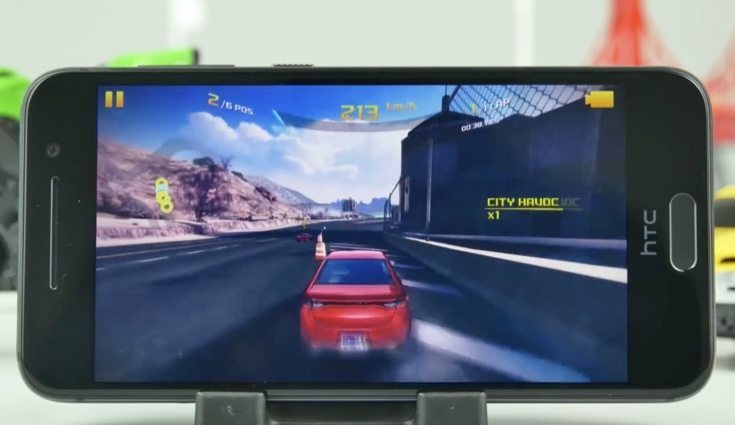 The HTC One A9 released in November and while it didn't turn out to be the highest-end flagship that was first rumored, it's a pretty solid offering. Many of us increasingly enjoy gaming on our mobile devices. If that applies to you and you're thinking of purchasing the One A9, you might be interested in an HTC One A9 review on gaming performance.
Specs of this smartphone include a Snapdragon 617 octa-core processor (four cores at 1.5GHz and four at 1.2GHz), and Adreno 405 graphics. It comes in variants with 2GB of RAM and 16GB of internal storage or 3GB of RAM with 32GB of internal storage, both expandable to 200GB via microSD. You can enjoy gaming on a 5-inch display with Full HD resolution of 1920 x 1080, and it runs the Android 6.0 Marshmallow operating system.
If you want to find out much more on the phone you might want to check out our triplicate review article on the One A9. Focusing on gaming though, the specifications suggest the phone should offer a decent performance in this respect. Nevertheless, it's always a good idea to check out the gaming experience on any smartphone that you might be considering purchasing. This brings us to the HTC One A9 review on gaming that you can see below this article that comes from Fone Arena.
The unit used for this review is the model with 3GB of RAM and the video shows gameplay footage from various popular games. They are Asphalt 8, Riptide GP2, Modern Combat 5, Dead Trigger 2, and Grand Theft Auto: San Andreas. You'll see gaming clips from each of these games, and after each piece of demo footage scores are given for both graphics and performance. For example, Asphalt 8 scores 4/5 stars for each category while GTA San Andreas scores 3/3 for each.
At the conclusion of the video you'll then see a rating given for the overall gaming performance of the HTC One A9. We're not going to give the game away by telling you that result before you watch the video below, as we don't want to ruin the suspense. After you've checked out the HTC One A9 review on gaming we'd like to know what you think. Are you satisfied by how the One A9 copes with gaming or not?
Source: YouTube
https://www.youtube.com/watch?v=mzviK76EqIg://