LG G5 prospect (LG-H830) in user agent profile spot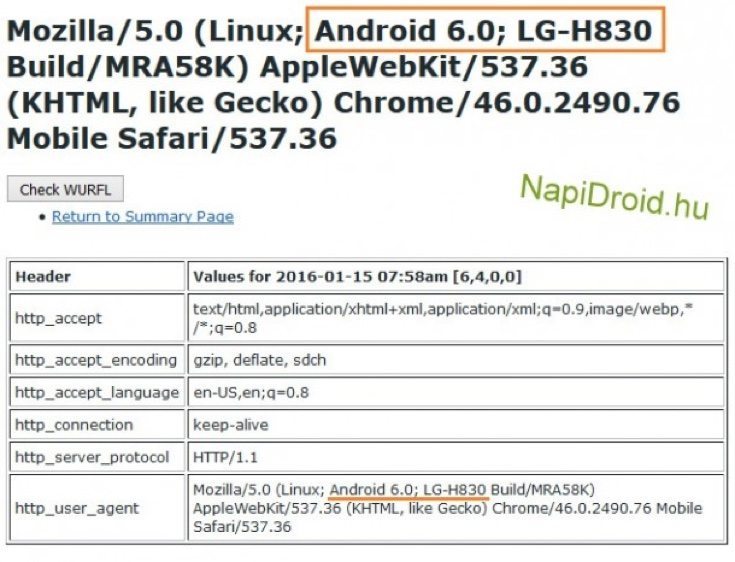 News and leaks about the upcoming LG G5 flagship have started to increase, as we get closer to an expected launch. There have already been some interesting rumors to get to grips with, and now an LG G5 prospect (LG-H830) has surfaced in a user agent profile spot. LG is holding an event on February 21 just before MWC 2016 kicks off, and it's expected that this is when the phone will be officially revealed.
There has been quite a stir following recent rumors about the LG G5. Recently we reported on some tipped specs and features for the device. We also shared some LG G5 design renders that were claimed to be based on an eyewitness testimony of the smartphone. These showed a very interesting idea for a slot style system for the battery in the metal build handset.
Of course at this stage nothing has been officially confirmed about the LG G5, but a new indicator has now surfaced. An unnamed new LG device has emerged in an HTTP user agent profile, and it looks very likely that this is the LG G5. The model number is shown as LG-H830, and considering the LG G4 had model numbers LG-H810, LG-H811, LG-H812, and LG-H815, it makes sense that this new model number is the LG G5.
The same spot also showed that the phone in question is running Android 6.0 Marshmallow, just as we'd expect. It's always good to see further indications of upcoming devices, and we'll be bringing you all the news from the LG event in February. If this event is for the unveiling of the LG G5 as anticipated, we will finally have the confirmed specs, expected release date, and hopefully the price for this device.
Are you following news about the upcoming LG G5 flagship smartphone for 2016? What are you hoping will be confirmed in the way of specifications and design? Let us have your comments.
Source: NapiDroid (Google Translated)
Via: GSMArena