Samsung Galaxy S7 specifications leak through unlikely source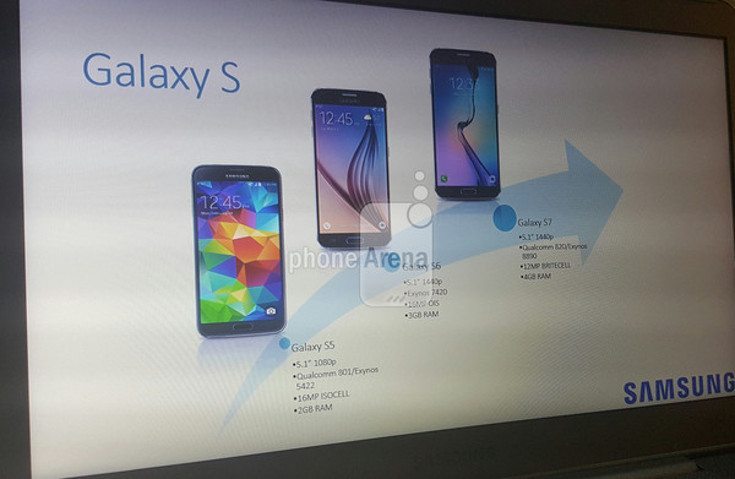 Each year smartphone manufacturers roll out their next big thing, and we're getting ready to see a lot of them next month. The Samsung Galaxy S7 release will be among them, and while we've covered its rumored specs more times than we can count, things may have gotten a bit more official today.
As we've said before, leaks come from a wide variety of sources these days. From social media posts to sneaky snapshots, we've seen a bit of everything. That includes "official" leaks which is what we may be looking at today. Phonearena has obtained a photo snapped of a presentation slide, which appears to reveal the Samsung Galaxy S7 specifications.
The slide shows the Galaxy S5, Galaxy S7 and the upcoming Galaxy S7 side by side along with the specifications for each smartphone. As expected, the Samsung Galaxy S7 will have a 5.1-inch panel with a resolution of 2,560 x 1,440 and will get its power from a Snapdragon 820 and 4GB of RAM. The storage wasn't mentioned, but a 12MP BRITECELL camera was. A fingerprint scanner along with the usual bells & whistles will be present as well.
For now, you'll want to take the Samsung Galaxy S7 specifications with a very small dose of salt. We only say small as they are almost exactly what we expected from the company although the photo shown in the slide may just be a mock up or placeholder. Either way, we won't have to wait long to see what Sammy has in store when they unveil their next flagship in Barcelona at MWC next month.
source:Â Phonearena