iPhone 6S iOS 9.3 beta 2 speed testing vs Galaxy S6 Edge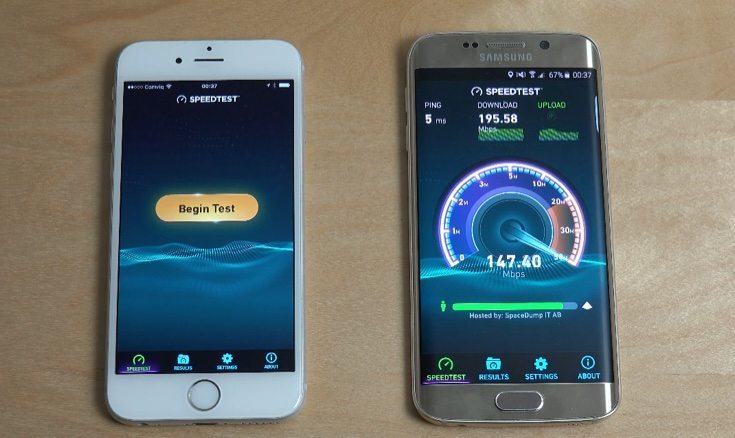 When Apple releases new iOS betas it can sometimes be interesting to see how speeds of devices compare with Android phones. Last week Apple seeded iOS 3 beta 2 to developers, and a few days later the company also released iOS 9.3 public beta 2. We came across a video that we thought some readers would like to see. It shows iPhone 6S iOS 9.3 beta 2 speed testing vs Samsung's Galaxy S6 Edge, and we wonder if you can predict the outcomes?
In iOS 9.3 beta 1 just some of the new features and changes included system wide Night Mode, upgrades for various apps, more 3D Touch home screen shortcuts, changes to the App Store, and improvements for educational use. The second beta added to this with re-organized Night Shift settings and more. As well as various improvements and new features, iOS updates usually bring performance optimizations. That's why it's always good to check out the speed of devices running the latest iOS betas.
The video that we've embedded below shows an iPhone 6S running iOS 9.3 beta 2 up against a Samsung Galaxy S6 Edge running Android 5.1.1 Lollipop with Samsung's TouchWiz UI. After a short introduction the first comparison of speeds is a bootup speed test. Both handsets are simultaneously powered up and it's the iPhone 6S that's ready for action first. After this the reviewer gives us a look at the Night Shift mode on the iPhone 6S so this is your chance to check that out.
Next up is an Ookla Speed Test and we see that both handsets are on the same WiFi connection. Download and upload speeds for both phones are shown, and the reviewer seems pretty surprised when the iPhone 6S achieves higher scores than the Samsung Galaxy S6 Edge. Following this a Geekbench benchmark test is conducted, and you'll see the single-core and multi-core results. This time there was a mixed result and you can see this when you watch the video below.
The reviewer adds a few further observations about the user experience of both handsets, and once again the need for a 'close all' button on iOS is stressed, something we've noted on many occasions ourselves. If you have any thoughts on this iPhone 6S iOS 9.3 beta 2 speed testing against Samsung's Galaxy S6 Edge, drop us a comment in the box below.
Source: Adrianisen (YouTube)
https://www.youtube.com/watch?v=XqZ6lV70E_c://