Moto G 2nd gen public rollout of Marshmallow update arrives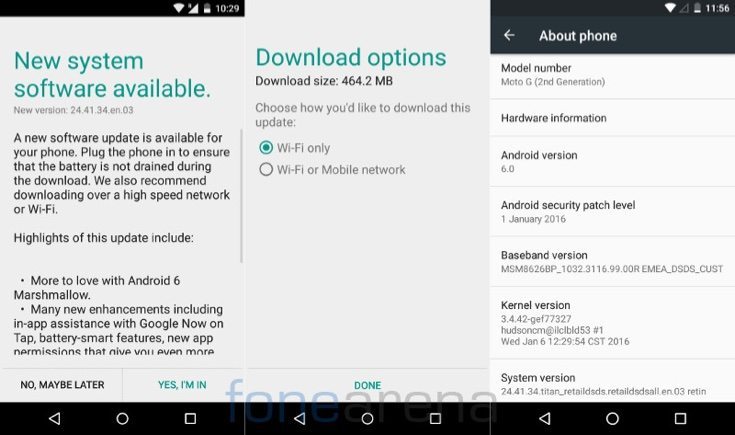 It can be interesting to follow developments of Android updates as they roll out to various devices, and recently we informed readers that the Android 6.0 Marshmallow update for the Motorola Moto G 2nd gen model would be arriving shortly. That day is here, as we can tell you that the Moto G 2nd gen public rollout of the Marshmallow update has arrived.
We've already seen the arrival of the Android Marshmallow for Moto devices such as the Moto X Style, Moto X Play, Moto G Turbo Edition, and Moto G 3rd gen. In late January we reported that Motorola had now issued release notes for the same update for the Moto G 2nd gen, and that the phone would be jumping straight from Android 5.0 Lollipop to Android 6.0 Marshmallow and skipping Android 5.1.
That's exactly what's happening now following soak testing of Marshmallow for the Moto G 2nd gen in both Brazil and India. It's reported that users of both the 3G and 4G LTE versions of the phone in India are now starting to receive the over-the-air update, although the public rollout doesn't appear to have elsewhere yet. However, once we see updates start being pushed out in one market they usually arrive very soon for further regions.
The Moto G 2nd gen Android Marshmallow OTA update is 464.2MB in size and version number v24.41.34. It also brings with it the Google Android January security update. This is a major update for the Moto G 2nd gen that offers a host of improvements and new features. Some of the inclusions are Google Now on Tap, refreshed app permissions, battery-smart features, as well as performance optimizations.
If you have the Moto G 2nd gen in India you should be receiving notification of the update to your device in the course of the next few days. Of course you can always check for the update manually by heading to Settings on your phone, followed by About Phone and then System Updates. It's always good to track the progress of Android updates as they arrive for a device in different regions, so we'd really like to hear from you if you have the Moto G 2nd gen.
If you are one of our many readers in India we'd like to know if you have already received the Moto G 2nd gen Marshmallow update? Maybe you will be among the first users to receive this update in other markets, in which case why not share the news with other readers.
Source: Fone Arena