Ulefone Power battery life compared, trounces the competition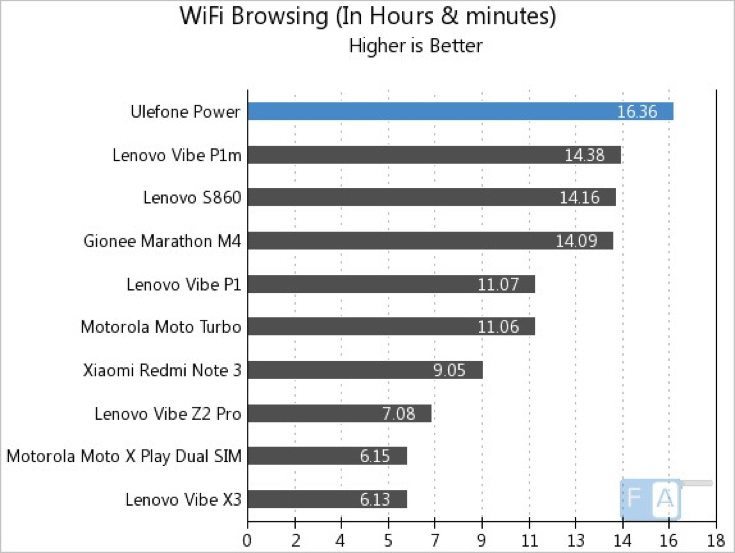 If battery life is a crucial aspect of a new smartphone for you, then you might be interested in this next item. Ulefone may not be a brand that many readers are familiar with, but the Chinese maker recently introduced the Ulefone Power with a significantly sized 6050 mAh battery. Today we're looking at Ulefone Power battery life testing and the results compared with some other smartphones. It's fair to say that this Ulefone handset trounces the competition in this respect.
The Ulefone Power was launched in late December with a low price tag of just $209 unlocked. The Android phablet has a MediaTek MT6753 octa-core processor, 5.5-inch display with Full HD resolution, and 3GB of RAM (see more in our launch article). The highlight however is its whopping 6050 mAh battery with quick-charging capability, that should provide enough juice even for those who make heavy demands of their smartphones.
Now the Ulefone Power battery life has been thoroughly tested by Fone Arena in four key categories, Talk Time, 3G Browsing, WiFi Browsing, and Video Playback. In each case the results attained by the phone were put on tables comparing its times with numerous other smartphones. Just a few of the other devices that it was compared with are the Lenovo Vibe P1, P1m, Gionee Marathon M4, Motorola Moto Turbo, Moto X Play, and Redmi Note 3.
For Talk Time the Ulefone Power soared to the top of the chart with a time of 50 hours and 2 minutes (see image directly below). That completely outstripped the Moto Turbo in second spot on 33 hours and 20 minutes. In joint third spot were the Lenovo Vibe Z2 Pro and Vibe P1, Moto X Play Dual SIM, and Gionee Marathon M4, all with 33 hours and 19 minutes. In tenth position (last) was the Lenovo Vibe X3 on 20 hours and 3 minutes.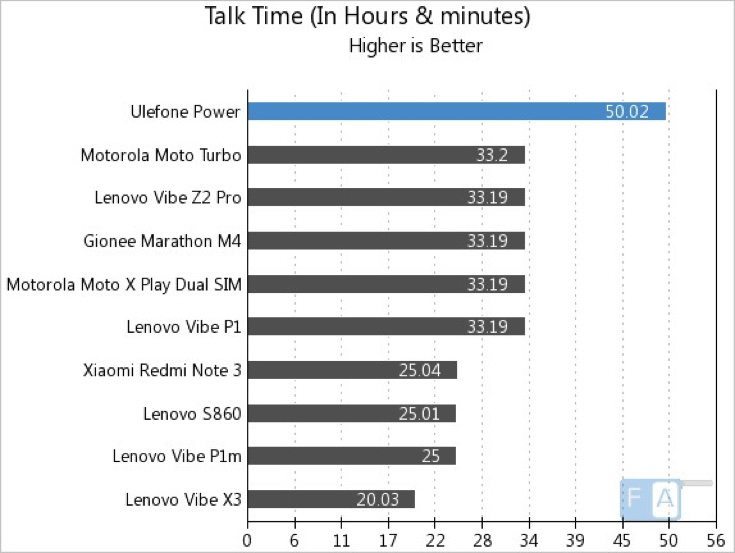 The next category was 3G Browsing and again the Ulefone Power landed first place with 16 hours and 34 minutes. Once again there was a notable gap between it and the phone in second spot, in this case the Marathon M4 on 10 hours exactly. This time around the Lenovo Vibe Z2 Pro was at the bottom of the table on 5 hours and 15 minutes.
The Ulefone Power was the victor yet again for WiFi Browsing, managing a time of 16 hours and 36 minutes (image below story). The Lenovo Vibe P1m was second with 14 hours and 38 minutes, and in third was the Lenovo S860 on 14 hours and 16 minutes. In stark comparison the Lenovo Vibe X3 languished at the bottom of the table on just 6 hours and 13 minutes.
The final set of testing involved Video Playback and the Ulefone Power didn't quite manage a clean sweep. However, it still attained second position with a time of 16 hours and 41 minutes. This just pipped the Lenovo Vibe P1 and S860 in equal third on 16 hours and 40 minutes. For Video Playback it was the Gionee Marathon M4 that was the victor with a notable time of 25 hours and 2 minutes. In last place was the Lenovo Vibe Z2 Pro with 8 hours and 20 minutes.
Smartphones that release with the battery size of this Ulefone handset are few and far between, and it's clear to see from this Ulefone Power battery life testing that size matters! In three out of four categories the Power hit the top of the table, and in the other test it was in second spot, which overall makes it a great performer as far as battery life is concerned. If you want to see the other tables, a One Charge Rating, and more about the battery test procedures, you can do so from the source link below.
Have you been looking for a reasonably priced smartphone with good battery performance? Do you think you've found it considering these Ulefone Power battery life test results?
Source: Fone Arena