LG G5 release date, news and more via pre-registrations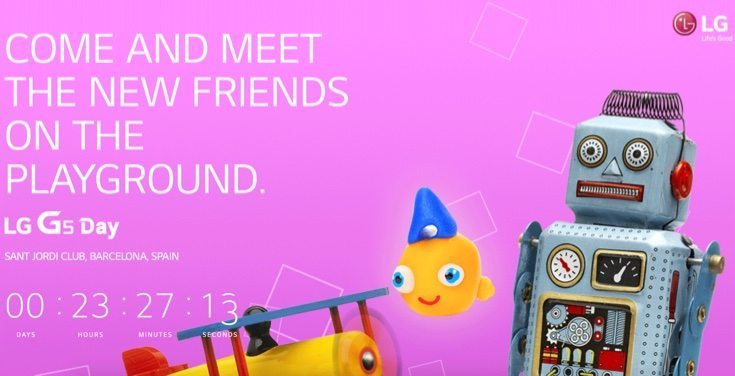 Tomorrow is going to be a huge day in the smartphone world, as the upcoming Samsung Galaxy S7 and LG G5 are both going to be officially unveiled at pre-MWC 2016 events. Leaks about the LG G5 have been bountiful and there is plenty of anticipation for the upcoming flagship. Now you can get the LG G5 release date, news and more via pre-registrations.
Just in the last few days we've reported on a new leak about the LG G5 as well as a leaked image of a so-called Magic Slot accessory. At the LG event tomorrow we expect to hear all of the confirmed specifications, and hopefully pricing and when it will be available. However, if you want to be kept directly informed an LG G5 pre-registration page is now available for the US.
The official registration page reads "LG G5 Day" across the top and you can sign up by providing a few details to be among the first to know about the LG G5 release date and more. On the page LG Says —
"Get the latest news on the LG G5, including the release date and all the cutting-edge features and specs, designed to keep you effortlessly connected on-the-go. The G5's fast processing speed will make this phone ideal for the ultimate multi-tasker. The G5 offers quick and easy access to all of your favorite apps and programs for when you need them most. From talking and texting, to more advanced capabilities designed for your life on-the-go, the LG G5 is ushering in a new era of mobile phone technology."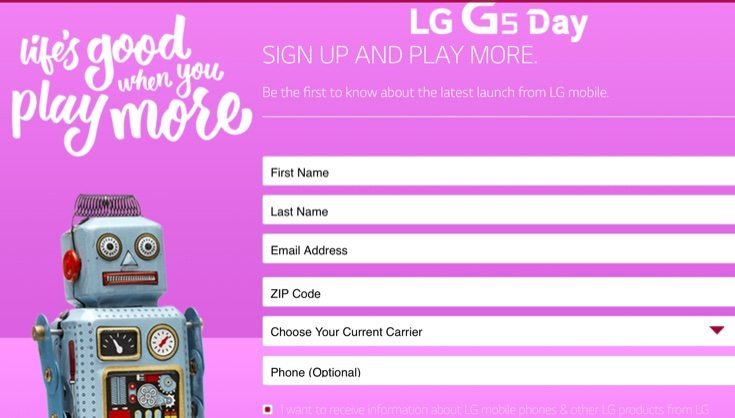 Meanwhile another LG webpage is offering a nice countdown teaser to the official unveiling of the LG G5. It currently reads 23 hours, 22 minutes, 55 seconds, 54, 53… you get the picture! Of course we'll also be reporting the latest on the multitude of new smartphones that will be unveiled at MWC next week, so do check back with us for more.
Are you waiting for the official reveal of the LG G5? Will you be keeping informed about the LG G5 release date and more by using the official pre-registration page?