Samsung Galaxy Marshmallow update details leak through Roadmap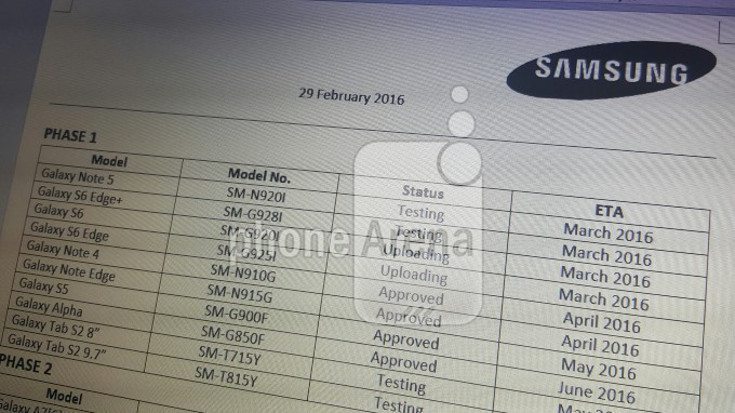 Nothing is worse than having a sleek new smartphone that's stuck running an outdated OS. The Samsung Galaxy Marshmallow update is something millions of consumers have been waiting on, and details surrounding its general release may have finally been revealed.
If there was an award given by consumers for timely updates on the smartphone side of things, we're guessing Samsung wouldn't win it. The company has never been overly quick about getting their updates out although we'll cut them a bit of slack as carriers tend to slow things down. News of the Samsung Galaxy Marshmallow update has been sparse, but a new Roadmap may have finally given us an idea of when it will arrive for certain handsets.
Phonearena has obtained information regarding the Samsung Galaxy Marshmallow update, and it's good news for the most part if you own a relatively recent Galaxy device. The first round of Samsung Galaxy Marshmallow updates will arrive this month and will hit the Samsung Galaxy Note 5, Galaxy S6, Galaxy S6 Edge, and the Galaxy S6 Edge Plus. In April, the Samsung Galaxy Note 4 and the Galaxy Note Edge will get some Marshmallow love followed by the Samsung Galaxy S5, and the 8" and 9.7" models of the Galaxy Tab S2. Bringing up the rear is the Samsung Galaxy Alpha which is said to receive the Samsung Galaxy Marshmallow update in June.
While it's great to finally get some kind of news on the Samsung Galaxy Marshmallow update for recent Galaxy devices, keep in mind nothing is concrete. While the leak appears to be legit, we've seen timelines bumped back too many times to count and depending on how you purchased your phone, you may still have to wait for carrier clearance.
Are you looking forward to finally receiving the Marshmallow update for your Galaxy device?
source: Phonearena