LG G5 Best Buy pre-orders open on March 18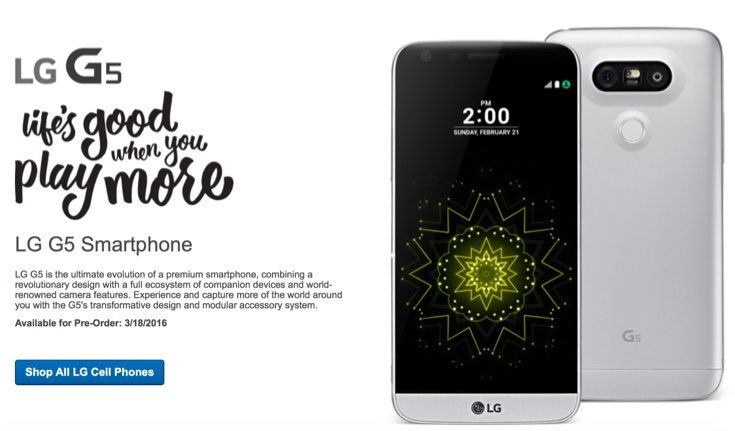 Interest is bubbling nicely for the upcoming LG G5 release. This new LG smartphone is generating plenty of excitement, especially given the new modular approach adopted for the LG flagship. If you're waiting for this phone in the US we can tell you that LG G5 Best Buy pre-orders will open on March 18.
LG has still not announced an official LG G5 global release date. However, April 8 is the date to circle on your calendar for those in Canada and the UK, and this could still turn out to be the date for worldwide availability too. A few days ago we reported that the LG G5 would arrive with some freebies for US buyers, and this has now been followed by news of the phone at Best Buy.
The giant retailer now has a landing page on its official website that says LG G5 Best Buy pre-orders will open on March 18. Sadly there's no news yet of the LG G5 price at Best Buy, but at least there are only a few more days to go until we should be able to find out. The webpage in question doesn't yet show an availability date for the phone, but again we hope for more information about that on March 18 when pre-orders begin.
All four of the main US carriers have already confirmed they will be offering the device, so buyers will have plenty of options available to them. It has some top-end specs to look forward to including a Snapdragon 820 processor, 5.3-inch display with Quad HD resolution, and 4GB of RAM. You can check out much more about the phone in our LG G5 launch post.
Are you pleased to hear that LG G5 Best Buy pre-orders will start later this week? Maybe you have already pinned your sail to the mast and decided that this will be your next smartphone purchase?
Source: Best Buy
Via: Android Central