Huawei Honor V8 specs revealed from certification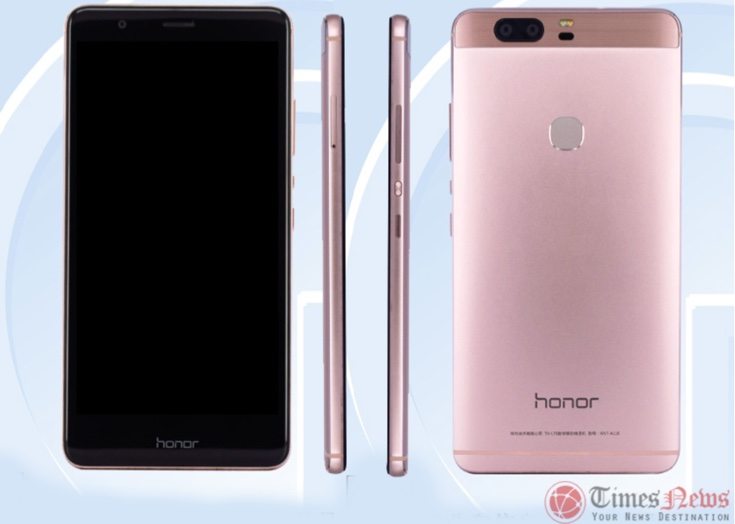 It was last week that we first reported on the Honor V8 smartphone when the company revealed that it would launch on May 10. Official teasers have been posted about the device indicating a dual rear camera set-up, and some Huawei Honor V8 specs have now been revealed from a spot of the phone in the certification process.
When we reported on the teaser image for the launch event, unofficial rumors suggested two 12-megapixel camera sensors for the main camera arrangement on the back of the phone, a Kirin 950 octa-core processor, and 4GB of RAM. However, as we stressed at the time those details were all unconfirmed. Now the phone has passed through Chinese regulatory authority TENAA, and the filing gives some of the main specifications and also some images of the handset.
It looks as though there will be three variants of the Huawei Honor V8, or at least three models have received certification so far. They are the Honor V8 KNT-AL10, the KNT-TL10, and KNT-AL20. The third of these variants has more internal storage as well as a better display and processor than the first two. Meanwhile the first two models appear to differ only in their colors.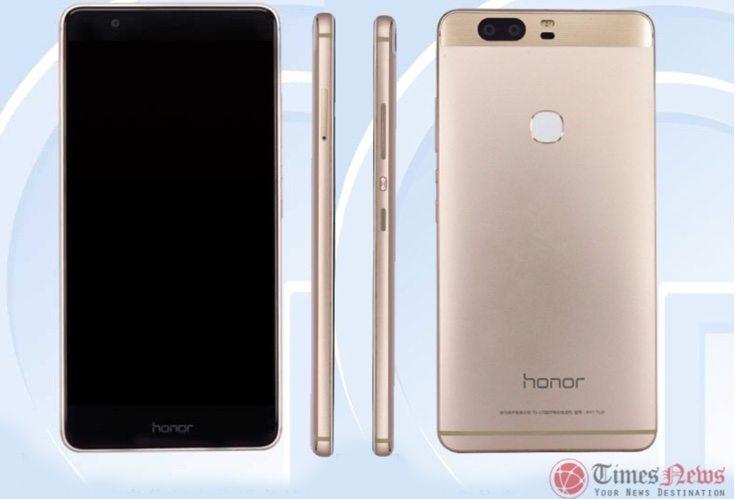 Huawei Honor V8 specs for the KNT-AL10 and KNT-TL10 include a 2.3GHz octa-core processor, 5.7-inch display with Full HD resolution of 1920 x 1080, and 4GB of RAM. They both have 32GB of internal storage, and juice is supplied by a 3400 mAh battery. There's a 12-megapixel dual camera set-up at the rear, exactly as rumored, and at the front you'll find an 8-megapixel camera. They will release running Android 6.0 Marshmallow. The handsets measure 157mm x 77.6mm x 7.75mm and weigh 170g.
The superior KNT-AL20 model (pictured below) has many of the same specs but steps up to a 64GB of internal storage, a 2.5GHz octa-core processor and Quad HD display resolution (2560 x 1440). Color choices include Gold, Rose Gold, and Silver. Previously we heard of an expected price for the Honor V8 of around CNY 2,000 (around $309) but that should be treated as speculation for now.
With the above specs it looks likely that the Honor V8 will attract plenty of attention. Thankfully there's not too long to go until we hear full details at the May 10 launch, and we'll be back with more news as we hear it. Are you a potential buyer of the Huawei Honor V8 depending on the confirmed price?
Source: TENAA (1) (2) (3)
Via: Times News