Samsung C-Lab set to introduce Five New Projects
We've touched on Samsung's secretive Creative Lab a few times over the years, but not often as we would like…that would defeat the whole secretive part. The company is set to introduce five new projects soon, and we've got a few tidbits on what you can expect.
Samsung's Creative Labs is a part of the company that allows its employees to bring their ideas to life. While we don't hear too much about C-Lab, occasionally Sammy pulls back the curtain and gives us a peek at what they've been working on. This time around, it's a whopping five products, and several of them prove the company is firmly entrenched in mobile VR.
First up on our list of C-Lab projects is something called Samsung Ahead. It's a communication device built to be worn on any type of helmet, and allows you to make or take phone calls, deal with notifications, and control music playback. Think of it like a smartwatch for your helmet although the way it's made will allow it to attach to a wide variety of things.
Another wearable gadget from the company will be the oddly named Samsung AMe, which stands for Around Me. This little device can be work like a necklace and sports three cameras that can capture the world around you in 360-degrees in 4K. It's not going to be for everyone, but will certainly appeal to those that do lifelogging or want to take 360-degree video for Virtual Reality. On the VR side of things, we have the Entrim 4D+, which are high-tech headphones of sorts. It will allow you to "feel" directions in VR through Galvanic Vestibular Stimulation in order to decrease motion sickness and further pull you into the world of VR.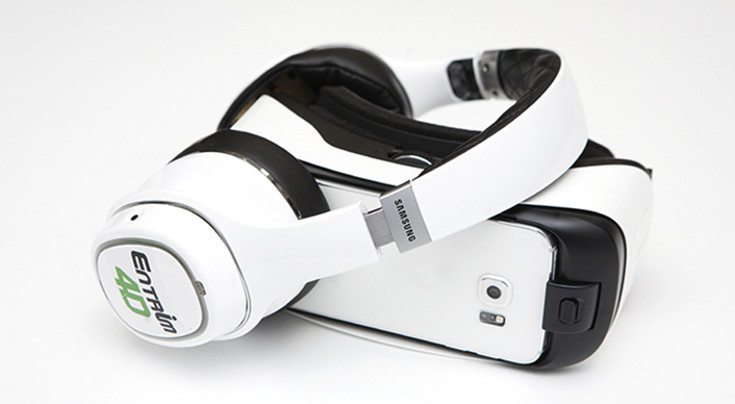 The last two projects from the C-Lab involve apps, and we're going to start with the LiCon app which deals with the Internet of Things. Actually, it helps you control the connected world around you in a very interesting way. It can act as a universal remote of sorts, but you can snap a photo of a device you want to control, and the app will take care of the rest. Last but not least is the ItsyWatch, which is billed as a "Gameified" smartwatch app. While not the first of its kind, it's geared to get children to pick up good habits through cartoon characters and other interactions.
While there is no release date or price given for C-Labs new projects, several look like they are nearing the finish line as Samsung is already announcing several different colors for a couple of their prototypes. All the projects are the sort that could easily find their way to retailers and App Stores though, especially if they go over well at the Samsung Developers Conference, which takes place from April 27-28 in San Francisco.