Unannounced Sony Xperia smartphone gets Benchmarked with High-End specs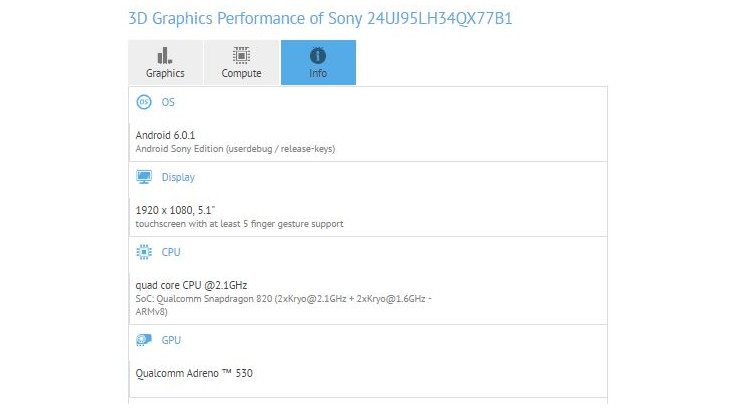 It's a close race between TENAA and GFXBench as to which has leaked more device recently. Well, you can add another mark beside GFXBench, as an unannounced Sony Xperia smartphone has just been listing online.
We are set to see more handsets released than ever before this year, and it can be difficult to keep track of all the incoming devices, especially when they carry a moniker like this one. The unannounced smartphone from Sony doesn't have an official name yet, but is currently going by Sony 23UJ95LH34QX77B1. While that does not necessarily roll off the tongue, we're sure it will receive a name change before it hits the streets. As for the specifications, they are interesting to say the least.
The unannounced Sony Xperia smartphone is listed with a 5.1-inch FHD panel, which means  there will be no 2K display on this one. That said, it's going to be fast thanks to 2016's chip of choice in the Snapdragon 820, which will be backed by 3GB of RAM. It will have 32GB of storage out of the box as well, but only 20GB is listed as usable on the GFXBench listing.
The usual array of sensors are listed as well along with NFC and as single SIM card slot which means this one could be a variant of sorts. Last but not least are the cameras, which are listed at 21MP and 13MP along with the OS known as Android 6.0.1. There are a few more blanks to fill in which usually don't appear in these types of listings, but the phone definitely walks the line between high-end midranger and flagship.
At this time, there has been no mention of a smartphone carrying this particular model number anywhere else online, so it is going to be a mystery… for at least another week or so. As it's a benchmark listing you just never know as we could see a similar device appear elsewhere in the next few days or it may never rear its head again. Our money is on the former and not the latter though, so rest assured we'll keep you in the loop as we learn more.
via – GSMarena        source: GFXBench