ARM Introduces Improved Cortex-A73 CPU Design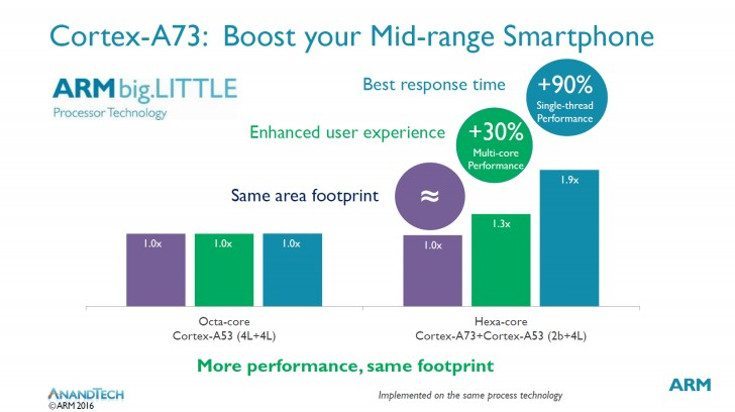 ARM just revealed their latest Cortex-A73 architecture, which will bring significant  improvements in terms of battery life and overall performance, especially in flagship smartphones. Just like with computers and laptops, the CPU in your smartphone is what makes all the difference in the world, together with the GPU and the amount of RAM onboard. The new ARM Cortex-A73 is nicknamed Artemis and it features a new design/architecture compared to the current A-72 generation, a CPU found in many upper mid-range/flagship tablets and smartphones.
The main difference between the older A-72 gen and the Cortex-A73 is its actual size, the latter being 25% smaller physically than the former, and that feature allows chipset makers to build hexa core  CPUs (for example 4x A52 plus 2x A73) that are roughly the same size when compared to an octa core design, i.e. an A-53. Translated into real life performance, with the new and improved Cortex-A73 you'll get an amazing performance boost in regards to single core performance while keeping the price low (the price is dependent upon the actual size of the CPU). Also, you should know that single core processing is the most  important in terms of performance, while the multi-core processing works wonders when it comes to efficiency/power saving issues.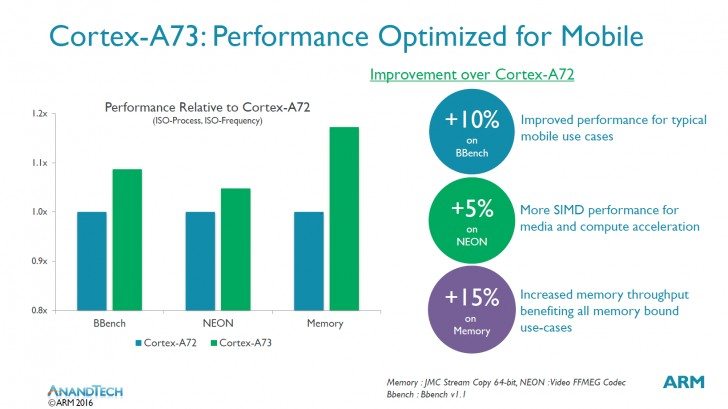 Long story short, with their latest Cortex-A73, ARM signals that chipsets like the Snapdragon 650 (a mid-range system on chip) are the way to go in the future. But flagships will also benefit enormously from the new Cortex-A73 design, especially performance wise. Older CPUs tend to get hot under heavy loads, and here throttling comes into play, significantly diminishing performance. The new Cortex-A73 is not plagued by the heating issue, being capable of offering consistent levels of performance under prolonged/heavy workloads.
Given the same clock speed, the Cortex-A73 offers a respectable 20% power savings together with being 10% faster than the current Cortex A-72. And the performance gap will become more obvious in the near future, when chip manufacturers will move to the 10nm technology (the current one is 16nm), allowing the new Cortex-A73 to run at 2.8 GHz while staying under 750 mW of power.