iPhone 7 Pro Live Photos Leaked, Flaunts Dual Camera and Magnetic Connector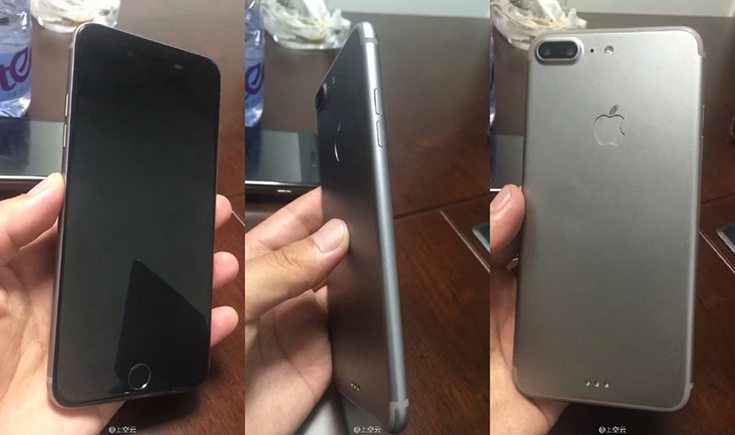 The number of leaks seem to be growing in number and I feel like a kid standing in front of the ice cream truck. Yesterday, live photos of a very authentic iPhone 7 popped out of nowhere and guess what, we now have live photos of the iPhone 7 Pro. It will be the first time that Apple will release three versions for a single phone, the iPhone 7, iPhone 7 Plus and the iPhone 7 Pro respectively. There may also be the 'S' versions of these phones taking the tally to 6 iPhones.
There was a report yesterday which said that the new iPhone 7 may not provide a lot of technological advancements, but will still sell well. But it looks like the bigger brothers of the phone may provide the technological advancements. At least that is what can be inferred from the live photos.
This time around, we don't have just one, but three photos of the iPhone 7 Pro. These photos look like an early prototype, mainly due to the fact that the Apple logo isn't how it is supposed to be. Apart from that, we have shots of the front, back and both the sides. Sadly, the confusion regarding the headphone jack will still prevail as there is no shot of the top and bottom.
The photos clearly show off the dual camera setup in the iPhone 7 Pro which looks gorgeous with the black bump. The Touch ID button stays the same and it is still round. Like with the photos leaked yesterday, the antenna lines have been moved to the top and bottom of the phone.
The most exciting bit about the iPhone 7 Pro is the peculiar dots seen at the bottom. These look very familiar to the magnetic connector points that are used in many smartphone accessories. If that is the case, we'll be seeing one hell of an iPhone this year.