Samsung Galaxy Note 7 cases and accessories get listed ahead of launch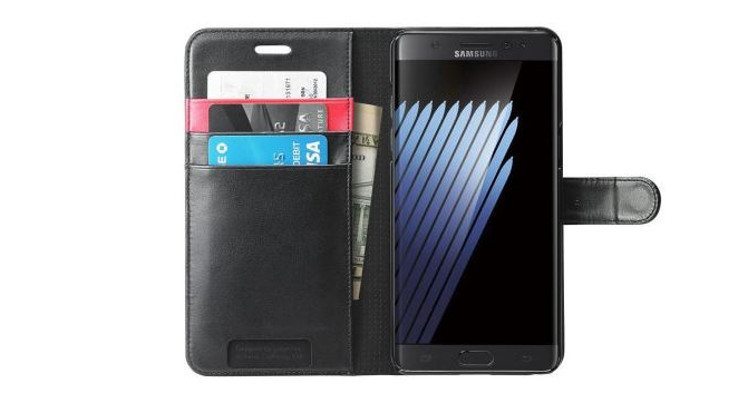 In case you needed more proof that the Samsung Galaxy Note 7 exists, we have it for you. A new leak has shown a slew of Samsung Galaxy Note 7 cases and accessories, and it appears as if Sammy is going to have plenty of goodies to launch alongside its shiny new flagship.
We recently found out Samsung was going to announce the Galaxy Note 7 in August. That's just one of many bits of information that has come our way over the past few weeks, and we expect to see more before August 2nd rolls around. While we wait for Sammy to pull back the curtain, we are going to take a look at several Samsung Galaxy Note 7 cases and various other accessories to pick through.
It is not uncommon to see smartphone case manufacturers leak a render of an upcoming handset they've made a case for. We have seen that several times this year already, and while we don't have many photos this time around, we do have a large listing. A retailer in the UK has listed several official accessories, and it looks like we'll have a Samsung Galaxy Note 7 Clear View Cover Case and Samsung Galaxy Note 7 LED Flip Wallet Cover ready to roll at launch. Those are listed in Black, Blue and Gold, which should come as no surprise if you keep up with the company's color combos.
In addition to those Samsung Galaxy Note 7 cases, the company will also have a Leather cover and Lens cover available in Black. Another Black accessory will be the Samsung Galaxy Note 7 QWERTY keyboard cover… which is interesting for obvious reasons. Last but not least, are four official Samsung Galaxy Note 7 S-View cases in Black, Blue, Gold, and Yellow.
While nothing surprising has come from this leak, it is interesting that it's not labeled as the "Edge" which makes us wonder if it will simply be called the Note 7 this year despite its curves. The Samsung Galaxy Note 7 keyboard cover is also worth noting, as that is an accessory that some folks would enjoy having on their high-end new phablet.
Are you getting excited for the Samsung Galaxy Note 7 release date?
via – Phonearena      source: Mobilefun.co.uk